AC&E Participants Welcomed to Detroit by CU CEOs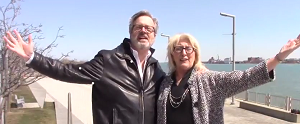 Michigan credit union CEOs Kathie Trembath of Diversified Members Credit Union and Hank Hubbard of One Detroit Credit Union are looking forward to seeing their peers from throughout Michigan and showcasing Detroit at the League's upcoming Annual Convention and Exposition, June 9-11.
The pair are featured in a recent video filmed along the Detroit Riverwalk where they proudly discuss the exciting shifts occurring in the city, including expanding housing and the popularity amongst millennials seeking to live, work and play in Detroit.
For the past months, Hubbard has been quick to share informational links and positive stories about Detroit and things to do, which have been included on the AC&E website under the Highlights tab. In the video he encourages credit union staff and volunteers to come and discover Detroit, as well as the exciting and inspiring things to check out in places like Midtown, Campus Martius and other pockets that One Detroit CU's CEO said, "You have to see!"
Trembath shares her observations about how great it is to now be seeing young people patronizing businesses and how unfortunate it is that some people only come to Detroit to attend sporting events. "There is so much more," declared the Diversified Members CU CEO.
The Friday, June 10 guest program "Detroit Shines! Tour, Shopping and Lunch" features some of the places that are being referred to, such as the world-renowned Opera House, historic Fillmore Theater, Willis-Canfield Retail District in Midtown including Shinola's flagship ftore, lunch at the famous Traffic Jam & Snug Restaurant featured on the Food Network and a stop at the Detroit Historical Museum to see the Vernor's 150th Anniversary Exhibit.
In other video clips Trembath focuses on how important networking is to her when attending the AC&E, and how valuable the training sessions are, particularly for board members. Hubbard also values the opportunity to see and meet with peers from across the state while attending the AC&E.
Steve Forbes, chairman and editor-in-chief of Forbes Media was recently announced as being the Friday, June 10 keynote speaker at the MCUL and CU Solutions Group event, being held at the Detroit Marriott at the Renaissance Center. The convention kicks-off with the pre-event "Corks for a Cause" networking event to support the Michigan Credit Union Foundation on Wednesday, June 8. Attendees are encouraged to call quickly for hotel accommodations with rooms still remaining, but now on a space-available basis.
Go to main navigation