Steve Forbes Announced as AC&E Friday Keynote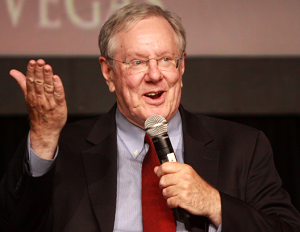 Steve Forbes, chairman and editor-in-chief of Forbes Media, as well as an internationally respected authority in the worlds of economics, finance and corporate leadership, will be delivering the keynote address at the MCUL and CUSG Annual Convention and Exposition being held June 9-11 at the Detroit Marriott at the Renaissance Center.
Forbes will be 'Center Stage!' speaking on Friday, June 10 on "Leadership Lessons: The Stunning Parallels Between Great Leaders of the Ancient World and Today's Business Leaders" based on his book Power Ambition Glory. He will follow remarks by MCUL & Affiliates President and CEO David Adams and CUNA President and CEO Jim Nussle.

Plenty of hotel rooms are being held until Tuesday, May 17 and will be on a rate- and space-available basis after this date. The AC&E is just $339 per person, with discounts for six or more full conference registrants from the same credit union. One- and two-day registration options http://2016ace.mcul.org/Registration_273.html are also available, providing a huge value for credit unions to offer staff training to those close enough to commute to Detroit.
Go to main navigation