Genisys Presents 2016 Walk for Warmth Donation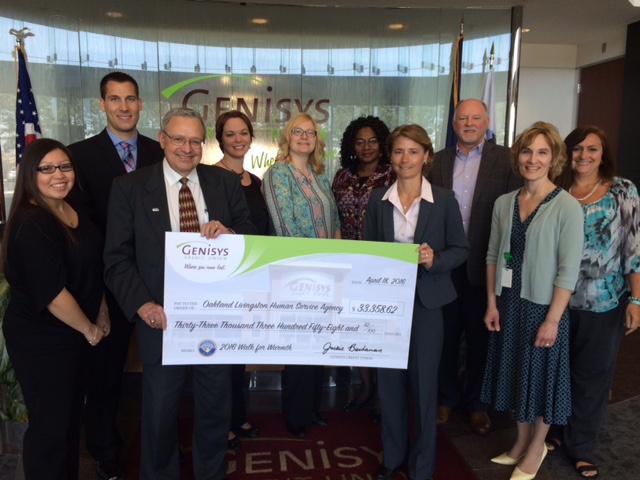 Genisys Credit Union presented their donation check to the Oakland Livingston Human Services Agency (OLHSA) on Monday, April 18.
"It is remarkable to see the amount of dedication our members and Genisys' staff has towards Walk for Warmth," said Jackie Buchanan, president and CEO. "All of the staff really enjoys helping out for this cause, which is in line with our corporate mission."
Genisys CU has sponsored the Walk for Warmth for over 20 years. Their staff raised money for OLHSA by selling stuffed penguins and food items, holding raffles, participating in Jeans Day fundraisers and collecting donations.
"OLHSA appreciates the dedication Genisys has shown to Walk for Warmth and to helping those in need in the communities we serve. Our partnership allows us to assist even more individuals and we are grateful to Genisys for their many years of participation," said Ronald B. Borngesser, OLHSA CEO.
OLHSA's Walk for Warmth exceeded their goal by raising more than $180,000 for Oakland and Livingston County residents. The money raised is used to heat homes in Oakland and Livingston Counties. More than 1,000 participants gather to walk in this event each year.

If you would like to donate please contact OLHSA at 248-209-2623 or visit here. They collect contributions all year.
Go to main navigation