One- and Two-Day AC&E Registration Provides Ideal Training for Commuters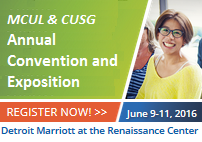 When the MCUL/CUSG Annual Convention and Exposition June 9 at the Detroit Marriott at the Renaissance Center, credit unions within commuting distance will have a particularly valuable opportunity to take advantage of a great selection of training–especially for staffers who may otherwise not travel overnight to participate.
In addition to the excitement at the Center Stage! keynote presentations, the AC&E boasts over two-dozen educational sessions presented by industry experts from across the country. While full-conference registration is a tremendous value at $339 per person (for the first five registrants), one-day registration starts at just $150 per person, making it exceedingly affordable for commuters to attend.
Plenty of hotel rooms are still available for those needing accommodations and rooms are being held until May 17. Now is the time to register for the AC&E and learn more about the outstanding agenda and training options such as these:
Thursday, June 9
Safeguards: Tools for Preventing, Identifying and Dealing with Fraud
Creating Connections with Success
Business Intelligence
Keeping Stress in Perspective
Risk, Uncertainty and Behavioral Finance
INSIDE Credit Union Compliance (Register one full-conference attendee, send another to INSIDE Compliance for free.)
Friday, June 10
Lunch & Learn Roundtables for Small-, Medium- and Large-Asset Sizes
Michigan Credit Union Act Changes: Strengthening the State Charter
Securing Information Assets
How to Stay Relevant in a Disruptive Lending Environment
Transformation of Employee Benefits: Trends, Tips and Traps
A Mobile Economy
Steps to Protecting Credit Unions from Embezzlement
Six Ways to Maximize Executive Performance
Ignite Sessions
Attract, Serve and Retain Millennials: More than Delivery Channels and Social Media
Mobile Security, Merchant Enablement and Mobile Payment
U.S. Economic Outlook and Impact on Credit Unions
How Operational Automation is Changing the Competitive Landscape
Embezzlement: What it Means to Board Members
Using Analytics and Technology to Increase Profitability and Delight Members
Saturday, June 11
The Great Motivation Myth: People, Values and Emotional Investment
It Takes More Than a Board
What Keeps Credit Union Leaders Up at Night: Opportunities & Challenges
Debunking Student Loan Headlines
Why Invest in Search and Social Marketing
Media Spokesperson Training
Communicate in Color: People and the Power of Personality
Facing Today's Real Estate Regulations
Change Management: Go Beyond The WHAT and Communicate The WHY
Go to main navigation