Networking at AC&E Adds Extraordinary Value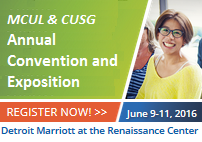 There are few other industries built on such cooperative principles as the credit union industry, where an executive from across town or across the state would reach out to help a peer from another credit union--with something big or small--without a second thought. It is proof that the motto "People Helping People" reaches beyond credit unions serving members and extends to credit unions helping credit unions, with a variety of support, initiatives and collaborative efforts.
During the MCUL and CUSG Annual Convention and Exposition, attendees will have plenty of opportunities to meet new people, and forge new relationships to strengthen the credit union model. From traditional networking, to fun new formats that make mingling easy and conversations comfortable, the event is packed with activities to engage attendees from start to finish.
New on the agenda this year is the Wednesday night, June 8, pre-event "Corks for a Cause" Wine Pull Extravaganza to support the Michigan Credit Union Foundation. All registered attendees are welcome to attend for no additional charge and those interested in donating to MCUF may purchase tickets for $25 each or 5 for $100, to leave with bottled wine valued between $20-$250 each.
While there will be plenty of time to interact with attendees and vendors in the expo hall, as well as with colleagues and industry experts during the educational sessions, activities such as the "Lunch and Learn Roundtables" for small-, medium- and large-asset size credit unions on Friday and the "CUES Networking Lunch" on Saturday add even more opportunities for valuable peer-to-peer exchanges.
The CU Solutions Group "Welcome Reception" on Thursday night and the Closing Celebration "Explore, Shore and Encore: Experience the Edsel and Eleanor Ford House" on Saturday provide added settings for casual and informal networking with other attendees.

Take advantage of this unique experience to be with your credit union peers from across the state this June 9-11. Now is the time to register for the AC&E and book hotel accommodations for the event, at the Detroit Marriott at the Renaissance Center.
Go to main navigation