AAACU Raises Funds for the Alpena D.A.R.E. Program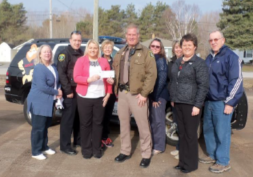 Through the hard work and dedication of its employees and the generosity of its membership, Alpena Alcona Area Credit Union was able to raise more than $1,000 in monetary donations for the Alpena D.A.R.E Program.
The D.A.R.E (Drug Abuse Resistance Education) Program founded in 1983 is an international substance abuse prevention education program that seeks to prevent the use of controlled drugs, membership in violent gangs and other violent behaviors. More than 36 million students go through the program annually.
In Alpena County 5th grade students go through the D.A.R.E program consisting of educational classes held in the classroom from Alpena D.A.R.E officer Tim Marquardt. Upon completion of the program a D.A.R.E graduation is held where students are presented with their certificate of completion.

Along with member donations, the Alpena Main Office staff members raised funds through candy bar sales, 50/50 raffle, lotto ticket raffle and donating $2 to dress down in jeans on Fridays.
Go to main navigation