Zeal Credit Union Announces 2016 Scholarship Winners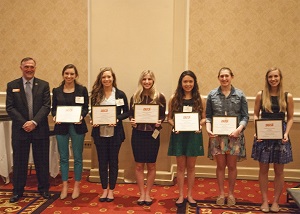 Zeal Credit Union recently announced recipients of the credit union's scholarship program. Scholarships totaling $14,000 were awarded to seven 2016 graduating high school seniors in Metro Detroit. Now in its 22nd year, the scholarship program honors longtime credit union volunteers and recognizes outstanding students who are Zeal CU members. Nearly $220,000 has been awarded since the program began.

Scholarship recipients and their parents were honored at Zeal CU's 61st annual membership meeting in March.

In applying for the scholarships, students were asked to write how they live with character, feel with empathy and act with passion in their school and community.

"Their responses were remarkable and encouraging for our future," said Lisa Fawcett, vice president of marketing for Zeal CU. "We congratulate everyone who applied and want to thank all of the parents, families and educators who support these students throughout the year."

Zeal CU's 2016 scholarship recipients include:
Hannah Schwartz, Divine Child High School, Dearborn–$4,000 Al Williams Scholarship
Matthew Calhoun, Roosevelt High School, Wyandotte–$4,000 Harlan Richardson Scholarship
Samantha Sievers, L'Anse Creuse North High School, Fenton–$3,000 Dutch Farr Scholarship
Ashley Cavagnetto, Walled Lake Northern High School, Commerce–$1,000 Mark Stroebel Scholarship
Isabelle Rosales, Walled Lake Central High School, Walled Lake-$1,000 Margaret Kremer-Hehman Scholarship
Allison Lennig, Plymouth High School, Canton-$500 William Allen Scholarship
Anna Brown, Inter-City Baptist High School, Allen Park–$500 James Cullimore Scholarship
Beginning in November 2016, online applications and details about the 2017 scholarship awards will be available on the credit union's website, www.ZealCreditUnion.org.
Go to main navigation