In Brief...
Be Financially Strong at Marshall Community Credit Union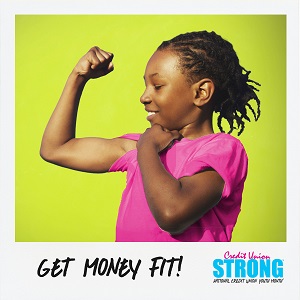 Financial literacy is a crucial life skill for young people, but it's one that too few are learning. That's why in April, Marshall Community Credit Union (MCCU) is focusing on helping youth become more financially fit. For the entire month, MCCU will be hosting events to help local youth strengthen their money skills and pump up their savings.
The theme of the month-long event is Credit Union Strong, so stop by and get in on the action at MCCU. All month long, youth members who make a deposit into their MCCU savings or CU In School account receive automatic entry into some awesome drawings, including the Super Saver Challenge where two lucky winners will receive $25 each and the Millionaire for a Day contest where one grand prize winner will win a $1,000,000 deposit along with limo service from school to the restaurant of their choice for dinner. And finally, deposits made into a youth account during the month of April will earn entries for National Youth Savings Challenge, a nationwide savings challenge sponsored by GreenPath Financial Wellness where 25 credit union members will be awarded a $100 cash prize.


MSGCU Hosts Ribbon Cutting Ceremony at New Office
Michigan Schools and Government Credit Union (MSGCU) celebrated the opening of its new office, located at Eight Mile and Farmington Roads in Livonia, with a formal ribbon cutting ceremony on March 29. Local dignitaries, community neighbors, Branch Manager Marjorie Rieckhoff, Assistant Branch Manager Henry Haidous and MSGCU staff and board members were in attendance.
"This office is our first in Wayne County and we have been welcomed so warmly into this community," said Peter Gates, MSGCU President and CEO. "We have enjoyed offering convenient service to both existing and new members in this vibrant area."
The celebration will continue next month, with special giveaways and a Weber Grill raffle for members and the community occurring the week of April 18-23.


Genisys Credit Union Among Top 50 Best Credit Unions
S&P Global Market Intelligence has named Genisys Credit Union one of the Top 50 best performing credit unions in the country.
"Genisys is proud to receive this recognition. It is a testament to the dedication and effort that our board, management and team devote every day to making Genisys a safe, sound and successful financial institution," said Jackie Buchanan, President and CEO, Genisys CU.
Genisys CU is one of three Michigan credit unions to make the Top 50 list, ranking 13th nationwide. Genisys CU is the only credit union in the Metro Detroit area, as well as the entire east side of Michigan, to make the list.
S&P Global Market Intelligence is a leading provider of financial information and research. They base their ratings on five metrics including member growth, net charge-off as a percentage of loans, efficiency ratio, asset quality and market growth.
Consumers Credit Union Opens New Office
Consumers Credit Union's newest retail banking office is now open. The Kalamazoo office is in the new retail development at Stadium Drive and Drake Road next to the Costco warehouse club and Field & Stream stores.
The office is two stories and features four new Interactive Tellers. "Interactive Tellers combine the best of ATMs with personalized service via two-way video link," said Scott Sylvester, chief operations officer for Consumers CU. "At the touch of a screen an employee at our Member Service Center responds. The teller sees the member and the member sees the teller in real time. This technology with a truly personal touch allows us to extend drive-thru hours at our Drake office until 7:00 pm. Monday through Friday and until 1:00 pm. on Saturdays."
Go to main navigation