Michigan Credit Unions Shine During Financial Literacy Month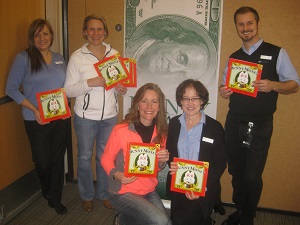 Natalie McLaughlin, Jeremy Cybulski and Suzanne Sundberg from Community Financial CU pack up Bunny Money Books with Julie Farkas from the Novi Public Library and MSW Michigan Chairperson Kelly Masters.
April is National Financial Literacy Month, Credit Union Youth Month and is host to "Money Smart Week." Each of these highlight the importance of financial literacy and teaching Americans how to establish and maintain healthy financial habits. This is an area where credit unions shine all year long, showing the credit union social mission in action.
President Barack Obama proclaimed April as National Financial Capability Month. "This month, let us encourage informed financial decisions and promote resources that help the American people make them," Obama wrote in his proclamation.
This year's theme for National Credit Union Youth Month, "Credit Union Strong," positions credit unions as a source of financial strength. CUNA resources help credit unions transform into high-energy health clubs, where staff members will serve as personal trainers to get kids in top financial shape this April.

Created by the Federal Reserve Bank of Chicago in 2002, Money Smart Week is a public awareness campaign designed to help consumers better manage their personal finances. This is achieved through the collaboration and coordinated effort of hundreds of organizations across the country the week of April 23-30. In addition to many individual Money Smart Week financial education events during the week, 7,000 families will have fun and learn about credit unions by participating in children's story times at Michigan libraries across the state. Attendees will take home a free copy of the children's book Bunny Money, by Rosemary Wells, which includes a bookplate indicating the book was donated by Michigan credit unions through CULink.
Go to main navigation