LAFCU family mourns the loss of John "Thunder" Lewis Jr.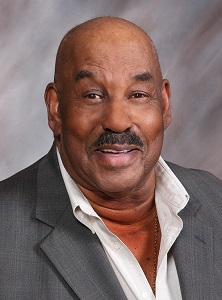 John Lewis Jr., known to many affectionately as "Thunder," or "Big John," passed away Tuesday, March 22 at the age of 81. Lewis was a long-time credit union spokesperson, board member and advocate of LAFCU and the credit union industry.
"John's intellect and humanity will be missed by all of us at LAFCU and throughout our community," said LAFCU CEO Robin Frucci. "He was a wonderful supporter and friend."
Lewis was born in Fremont, Ohio, served in the U.S. Army and graduated from Michigan State University. As a member of the MSU Spartan football team, Lewis made the winning touchdown in the 1955-56 Rose Bowl game. After graduation he played in the NFL before joining the personnel department at Oldsmobile.
"John first joined our team in 1984 when he became our celebrity spokesperson introducing LAFCU's VISA credit card program," said Frucci. "A video of his Rose Bowl-winning touchdown was incorporated into our first VISA television commercial to great success."
Lewis also served on LAFCU's board of directors for 24 years.
"John lived through many injustices in his early years," said Harold Foster, chairman of LAFCU's board of directors. "As a black man traveling with the college football team, John was not able to stay at the same hotels or eat at the same restaurants as his white counterparts.
"John never allowed the racial injustice he faced to hold him back. He brought sound knowledge and good common sense to the LAFCU board. He also knew the importance of taking care of people and was always willing to lend a helping hand to those less fortunate," Foster added.
"Family was very important to John. He once told a group of 5th and 6th graders from the St. Johns football team that you can always count on family through the good times and the tough times. He wanted those kids to appreciate the importance of family. John's contributions to the community will be greatly missed."
Lewis had a 44-year career in labor relations at General Motors, served on the Lansing Fire Board and was a member of the Delta Lions Club. A longtime member of Trinity A.M.E Church in Lansing, he served with the Sons of Allen.
Go to main navigation