2015 Another Banner Year for Michigan Credit Unions
The latest analysis from CUNA and the Michigan Credit Union League shows that member-owned financial cooperatives in Michigan continued to thrive during 2015, with strong membership and loan growth, near-record aggregate capital ratios, higher earnings and more.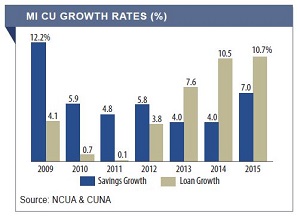 According to NCUA Call Report data analyzed by CUNA and MCUL, Michigan credit unions saw a 2.6 percent full-year increase in memberships during 2015, matching the 2015 result—the fastest growth credit unions in the state have posted since 1990. Loan growth also saw a 10.7 percent increase during 2015, the fastest growth since 1994. Loan growth categories varied, though member business lending was strong throughout the year, along with used auto loans, personal loans and more.
The strong lending and membership statistics, combined with an improving economic pictures, led to a year-end delinquency rate of 0.82 percent, down from 0.88 percent at the end of 2014. Net chargeoffs for the year also dropped by four basis points, from 0.51 percent at the end of 2014 to 0.47 percent at the end of 2015.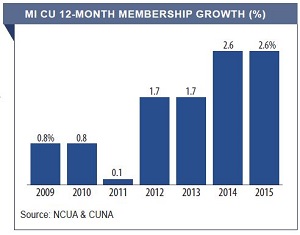 Credit union earnings in Michigan also saw a slight increase, rising from 0.83 percent at the end of 2014 to 0.84 percent for 2015. Those increases may be minimal, but they are well above the 0.59 percent average during the past decade.
Looking more broadly at the country as a whole, Michigan credit unions beat the national credit union average in a number of metrics for 2015, including 10.7 percent loan growth (10.5 percent nationally) and 7 percent savings growth (6.8 percent nationally), to name just a few examples. CUs in the Great Lakes State also beat the national average for the percentage of credit unions with a net worth of greater than 7 percent: 98.4 percent of Michigan CUs made that claim during 2015, compared to 97.6 percent of credit unions across the country.
More details are available in the full year-end report.
After a year that saw Michigan credit unions thriving, CUNA economist Mike Schenk puts 2015 in context and offers a preview of what 2016 may have in store for CUs in the Great Lakes State.
Go to main navigation