Michigan CUs Post Strong 2015 Q4 Results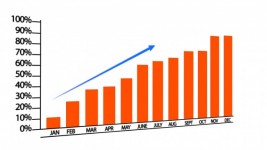 Michigan credit unions are flexing their collective muscle through the 2015 fourth quarter results that report large member and loan increases across the board.
According to Q4 2015 NCUA statistics, Michigan credit unions added 125,000 new members in 2015, landing the total number of Michigan credit union members at 4.87 million. This means close to half of Michigan residents bank with a credit union
Besides an increase in members, total loans registered double digit increases coming in at $32 billion, up 10.7 percent from the same time last year.
Other key growth metrics include:
Total assets: 7.0 percent
Used automobile: 14.6 percent
New automobile: 11.0 percent
Member business loans: 17.3 percent
Other unsecured loans: 7.2 percent
First mortgage: 8.9 percent
Credit cards: 5.1 percent
"At close to 5 million members strong, Michiganders understand the value of joining cooperative, not-for-profit financial institutions committed to supporting their communities. These impressive loan increases represent reliable transportation for families, first time home ownership dreams, and new jobs provided through business loans," MCUL CEO Dave Adams said. "These numbers demonstrate the real difference credit unions make in people's lives."
Regionally, credit unions also boasted large business loan increased as evidenced in the numbers below:
Detroit: 103.9 percent
Flint: 15.4 percent
Grand Rapids: 49.3 percent
Traverse City: 159.1 percent
Here's a look at average regional 2015 Q4 business loan growth from credit unions headquartered in each city as compared to same time last year.
Detroit: 103.9 percent
Flint: 15.4 percent
Grand Rapids: 49.3 percent
Traverse City: 159.1 percent
Other key regional loan growth metrics as compared to same time last year include:
First mortgages:
Detroit: 38 percent
Flint: 15.2 percent
Grand Rapids 24.7 percent
New car loans:
Detroit: 35.8 percent
Grand Rapids: 10.3 percent
Traverse City: 77.2 percent
Used car loans:
Detroit: 10.2 percent
Grand Rapids 23.7 percent
Flint: 11.1 percent
Traverse City 104.5 percent
Go to main navigation