Team One Credit Union Sponsors Rising Above Speaker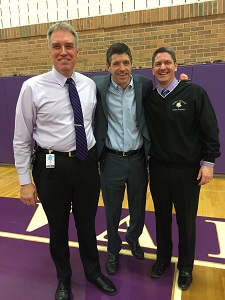 On Jan. 15, nationally renowned speaker John O'Leary shared his incredible story of survival with over 1,000 Swan Valley middle and high schools students and staff sponsored by Team One Credit Union.
As a nine-year-old boy, John O'Leary was burned on 100 percent of his body and given less than one percent chance to live. His amazing journey of recovery illustrates the incredible power of the human spirit. But John didn't make the journey alone. Hundreds of people-friends and family, neighbors and people he had never met before helped John in his recovery. From a tragic accident, John experienced first-hand that one person, one action, one word, does indeed make a difference. His empowering message to Swan Valley students highlighted the significance of their daily attitude, the power of personal choices and the importance of developing strong character in making a positive difference in the lives they lead at school and at home.
"I would like to thank Team One CU for sponsoring John O'Leary's visit to the school and sharing his message with our entire 6-12th grade student body," said Craig Blower, Swan Valley High School Principal. "John's message of hope, inspiration, perseverance and commitment in times of tragedy was amazing. I am certain that Mr. O'Leary's message will continue to have a positive impact on the Swan Valley School District into the future."

John O'Leary shares his message with 50,000 people at live events each year and his first book, ON FIRE: The 7 Choices to Ignite Your Radically Inspired Life is available for preorder.
Go to main navigation