MCUL's Latest Contact Magazine a Must-Read for GAC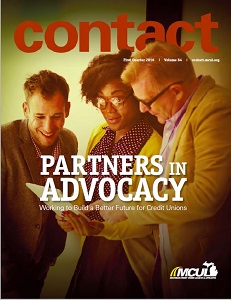 Just in time for CUNA's Governmental Affairs Conference (GAC), the latest issue of MCUL's Contact magazine is now available online.
Themed "Partners in Advocacy," this must-read issue includes profiles of chapters and CEOs that are leading the way for credit union advocacy in Michigan, a run-down of some of the biggest advocacy issues MCUL is tackling right now, tips on improving your credit union's advocacy efforts, and much more. Plus, this edition's "Credit Union Time Capsule" section calls back to one of the biggest
credit union concerns from 20 years ago—and why it's still a major problem today.
Print copies of Contact have shipped and should be arriving soon, but you can read the entire issue online right now by clicking here.
Go to main navigation