In Brief...
Skilled Trades Scholarship Given to Five Students Studying at MCCC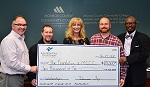 The Foundation at Monroe County Community College has awarded the Education Plus Credit
Union Skilled Trades Scholarship to Joey Arrowood, Natalie Hojnacki and Jeff Revard of Monroe and Kyle Petee and Curtis Robinson of Dundee.

Education Plus Credit Union, in partnership with the Michigan Credit Union Foundation, awarded five $2,000 scholarships to students who are pursuing higher education in the skilled trades. To be eligible for the scholarship, a student must be at least a part-time first or second-year student, have a 2.8 GPA or higher, demonstrate financial need and be a Monroe County resident. Preference is given to active duty service members, veterans and their dependents who are in the skilled trades.

United Federal Credit Union to Award College Scholarships To Outstanding High School Seniors
United Federal Credit Union (UFCU) in St. Joseph is currently accepting applications from high school seniors for its 2016 college scholarship award program.
UFCU scholarships are granted annually to outstanding students in each of the regions where the credit union operates. Recipients are selected based on academic achievement, community involvement, extracurricular activities and an original essay discussing the credit union philosophy of "People Helping People." Each regional winner will receive a $500 award, and the overall high scoring winner will receive a $1,000 award.
Students must be credit union members for at least six months to be eligible. The deadline to apply is Mar. 31. Applications are available from high school guidance counselors and on the credit union's website.

Deadline approaches for Zeal Credit Union scholarship applications
Zeal Credit Union invites qualifying graduating seniors in the class of 2016, who are members of Zeal Credit Union and will attend a college or technical school, to apply for its annual scholarship program.
Zeal Credit Union will award a total of $14,000 in scholarships, ranging from $500 to $4,000 each. The scholarships honor seven outstanding credit union leaders and volunteers. Since the scholarship program was initiated in 1995, the credit union has awarded more than $200,000 in scholarships to students in the metro Detroit area.
All scholarship applications and documentation must be submitted electronically no later than 6pm on Friday, Feb. 26.
Applications along with eligibility details and requirements are available on the Zeal Credit Union website.
Go to main navigation