CU Advocates Sought for MCUL Government Affairs Conference
MCUL & Affiliates is encouraging all Michigan credit unions to send a representative to Lansing to participate in the Government Affairs Conference, Apr. 20 & 21. All of Michigan's 110 State House seats and 14 U.S. House seats are up for election in 2016, making it a priority for credit union advocates to be up-to-date on current industry issues.
The event features insightful presentations including updates on MCUL's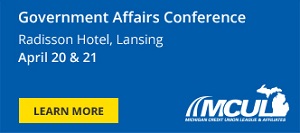 legislative and regulatory issues, as well as a House Financial Services Committee Forecast, political advocacy panel, regulator roundtable and more.
Registration is $149 per person for attendees from credit unions with assets over $50 million; $99 per person for those from assets with $50 million or less). A one-day registration option is also available for $99/$69 per person, respectively by asset size.
Go to main navigation