Alliance Catholic Celebrated Valentine's Day by Giving
Raising a child is expensive. For some families, buying even basic necessities can put a budget in the red. That's why Alliance Catholic Credit Union has taken up the mantle to support Project Hope, a division of Catholic Charities of Southeast Michigan, as a way of sharing love on Valentine's Day.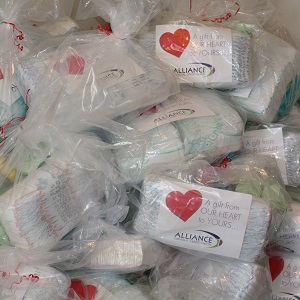 Project Hope offers free supportive services to pregnant women and families of young children with the goal to increase self-sufficiency. More than 30 women knock on the door of Project Hope looking for some kind of assistance every week. This Valentine's Day, Alliance Catholic answered the door.
"We are so thankful to Alliance Catholic for their generous donations because we are seeing a great need, and often times I must turn women away due to a lack of supplies," said Project Hope Coordinator Lucie Baumruckrova. "At Christmas there are always donations, but they tend to taper off and the reality is that these women need supplies all year long."
As part of Alliance Catholic's Heart for the Holiday campaign, on Feb. 12 ACCU staff members hand-delivered bags to Project Hope filled with diapers, baby wipes, baby wash and gift cards for Project Hope to disseminate them to women and children in need. The credit union raised the $5,000 to fund the initiative through employees, members and business partners/affiliates.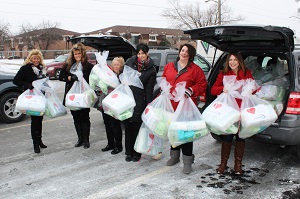 "We believe in giving back to our communities and making a real difference in people's lives," said Rob Grech, Alliance Catholic President/CEO. "We support Project Hope's cause to ensure children have their basic needs met. Our Heart for the Holidays campaign is a labor of love for this charity and for everyone it touches. This is only made possible by the generosity of our employees, members and business partners. I am truly grateful."
Go to main navigation