Make Last-Minute, this Minute! Lending, Marketing and Compliance Conferences this Week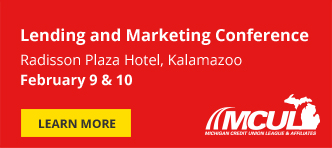 The waiting is over and credit union professionals from throughout the state will be headed to Kalamazoo this week for the MCUL & Affiliates 2016 Lending and Marketing Conference, Feb. 9 & 10 and Compliance Conference, Feb. 11 & 12.
Still not registered but want to attend? Write to educate@mcul.org and call the Radisson Plaza Hotel in Kalamazoo at (269) 343-3333 to inquire about accommodations.
Take a look at the 200+ attendees who are already registered to attend the Lending and Marketing Conference and the Compliance Conference and get your name registered too.
Go to main navigation