Tax Refund Season is Upon Us; Are Your Members Prioritizing?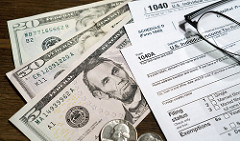 This is the time of year when many consumers will be looking forward to handsome refunds from the IRS, and while some of your members may be able to spend or save that refund money, what about those who need to pay up first? Your delinquent and overdrawn members are the ones who could use our assistance.
Odds are, your collection team has been hearing the same story for weeks; past due members who vow they'll pay when that all-important check or deposit comes through. What happens when the refund isn't enough? How do you keep those members current once tax season has passed?
Collectors have one of the hardest jobs in the credit union world. Day in and day out they're dealing with members who are under intense financial pressure and looking for ways to motivate those members to put your credit union at the front of the line each payday.
If your collection department could use some invigorating, Jamie Howell, CUCE, offers a full spectrum of custom collection training.. From keeping day-to-day collection calls effective and productive to filing small claims judgments or understanding the bankruptcy process, Jamie will empower your collectors to make the most of their tools and get the best results from your members.

Contact Jamie for a no-cost assessment of your credit union's needs at (734)793-3488 or by email.
Go to main navigation