Alliance Catholic Credit Union Raises $15,000 for Families Enduring Holiday Hardship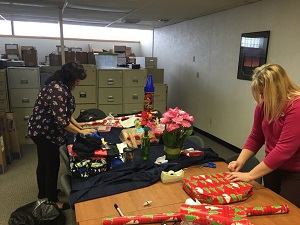 Alliance Catholic Credit Union hosted its annual "Hearts for the Holidays" philanthropic event on Saturday, Dec. 5, raising more than $15,000 for eight families in the Southeast Michigan area who were struggling this past holiday season.
"Even though the economy has improved there is still a need for many families within our branch and parish communities," said Rob Grech, president/CEO of ACCU. "Hearts for the Holidays has been a collective effort by our entire team as well as members and vendors."
ACCU provided eight families with a number of special gifts including items on their children's special wish lists along with some items for the parents, clothing and generous grocery, gas and food gift cards.
"I am very proud of our credit union and how we serve the true philosophy of 'People Helping People'," Grech said. "Every year we look forward to helping local families. The experience reminds us how serving others brings a true sense of joy. This could be someone who you sit next to at church or may see at your child's soccer game. You could pass them every day and not even know they are struggling. Our program may take a concentrated effort to pull off, but we count it as a privilege."
The credit union raised funds through employees, members and business partners/affiliates. Once the funds were collected, staff members at each of ACCU's eight branches delivered wrapped gifts to the families in time for a very memorable Christmas.
Go to main navigation