Lending and Marketing Conference Offers Two Full Agendas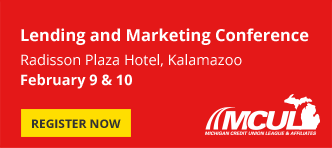 Credit union lending and marketing professionals from throughout the state will be headed to downtown Kalamazoo, Feb. 9 & 10 for the 2016 Lending and Marketing Conference, http://www.mcul.org/marketingandlending at the Radisson Plaza Hotel.
Two separate agendas combine into one exciting event and allow attendees to choose training from either lending or marketing topics. Industry consultant John Baptista will lead the lending keynote on "There is No Failure in Confidence" and viral marketing legend Rob Bliss will lead a marketing keynote on "Harnessing the Power of Viral Marketing."
Other select lending sessions slated for the event include "Troubled Debt Restructuring", "Locking in Members for Long-Term Relationships", "What's New in Compliance" and "How to Differentiate Credit Unions in a Crowded Lending Space".
Highlights of the marketing agenda include sessions such as "Innovation in Consumer Payments: Positioning for Success", "Doing Good and Getting Noticed: Marketing Credit Unions Through Community Outreach" and "Using Google Analytics to Super Charge Marketing".
Hotel rooms are being held until Jan. 18 and registration is $310 per person by this date.
Go to main navigation