Update to Speaker at Telephone Collections School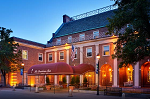 Due to unforeseen circumstances, noted author and skip tracing authority Alex Price will now be filling in for Ron Brown (originally slated to speak) at the MCUL Telephone (& Technology) Collections School, taking place Nov. 5 in Dearborn.
Price is a highly credentialed collection industry professional. He will be covering the eight steps of a skilled collection call and will share expert tips to find solutions leading to win/win results.
Price will also cover tools of the trade that professional tracers use to locate people and assets when all other avenues have failed. Attendees will discover how to merge the tried and true methods of old school skip-tracing with today's new-age technology to transform collectors to the next level in the evolution of the tracer.
The event takes place at the historic Dearborn Inn, easily accessible from I-94, M-39 and US-12 and situated in close proximity to The Henry Ford and IMAX theater.
Go to main navigation