Team One Credit Union, FM Financial Credit Union and Flint Community Come Together for Water Drive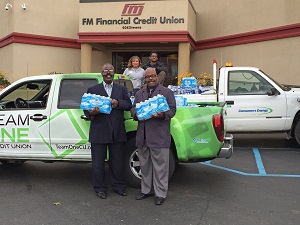 The water crisis in Flint has made daily life harder for residents. To help pull the community together and provide for one another, Team One CU and FM Financial CU recently teamed up with Saginaw & Flint area businesses to donate water to benefit schools and families in the Flint area.
The Great Lakes Bay Hispanic Leadership Institute (sponsored by Saginaw Valley State University) coordinated the Saginaw & Flint businesses and community partners, including Team One CU and FM Financial CU, to collect and distribute nearly 16,000 bottles of drinking water.
"It's just such a blessing to see the strong support that Flint residents have received from our friends in Saginaw and of course those locally. FM Financial CU is proud to partner with these great organizations and volunteers to help provide some relief for local families and children struggling to have basic access to clean water," stated Carl Hawkins, Board Chairman of FM Financial Credit Union.
Go to main navigation