In Brief...
Marshall Community Credit Union Donates 4,000 Popcorn Bags to Local Schools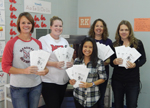 MCCU recently donated 4,000 popcorn bags to Hughes Elementary School and the Marshall High School Athletic Department. Hughes uses the popcorn bags for their Parent Council Organization Popcorn Fridays and MHS Athletic Department for concession stands at both home football and basketball games.
"We appreciate the recent donation from MCCU," PCO President Tiffany Hazen said. "Our popcorn Fridays are one of the PCO's largest fundraisers, so the bags are greatly appreciated and will be put to use immediately."
MCCU's financial education coordinator Andrea Tucker stated the donation was, in part, motivated by the student-run credit union branch at Marshall schools, "With so much that the schools do for us and for our CU In School program, it's the least we can do for them."

Forest Area Federal Credit Union Surprises Staff with Activities to Pay It Forward
Forest Area FCU recently surprised their Kingsley branch staff with $500 as an initiative to Pay It Forward into their community. The staff experience and community reception was inspiring to the credit union movement.
"My staff was excited and proud that we could do this," CEO Robert Raden said. "They expressed that it was such a rewarding experience to know that our credit union is as community committed as we possibly can be. A strong relationship in our communities has made our credit union a success and our board is always open to be a benefactor to all of our communities in tough times."

Genisys Credit Union Awarded Best of Bauer Status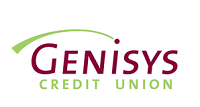 After 25 years under Bauer Financial's 5-Star rating, Genisys CU was awarded the Best of Bauer status. Bauer Financial is the leading independent bank and credit union rating firm. The research company conducts an analysis every quarter for all of the nation's financial institutions. Credit unions that receive the 5-star rating are deemed safe and financially sound.
"It's an honor to have earned this prestigious distinction from Bauer Financial," President/CEO Jackie Buchanan said. "We are proud to have our sustained sound financial condition recognized in this way."
Genisys CU is also one of the healthiest credit unions in the nation. This honor recognizes credit unions that have shown exceptional fiduciary responsibility. Genisys CU ranked 87th out of the 6,655 federally insured credit unions nationwide. Each institution is graded on capitalization, deposit growth and loan-to-reserve ratios in order to determine a comprehensive health score.

Flint Chapter Hosts Legislative Breakfast with Local Lawmakers
On October 16, a packed room of Flint Chapter credit union leaders hosted a legislative breakfast with State Senator Jim Ananich, Representative Joe Graves, Representative Pam Farris, Representative Phil Phelps, Representative Sheldon Neeley, Tim Sneller (staffer on behalf of Rep. Charles Smiley), and Amy Hovey (staffer on behalf of Congressman Dan Kildee).
The event was hosted in the community events room at ELGA Credit Union in Burton. Terry Katzur, Executive Vice President of ELGA CU opened the meeting with a warm welcome to all attending credit unions and lawmakers.
Lawmakers and MCUL staff discussed pending legislation regarding the MCUA, Data Breach, Patent Trolling, PRE tax reform, Regulator Relief, Member Business Lending, among other local issues such as Flint's water problem. Credit union leaders had the opportunity to ask questions, chat one-on-one with the lawmakers and staff attending the event. The breakfast was also a chance for the credit union community to thank and recognize local lawmakers for working together on these issues.

Vibe Credit Union Opens New Branch in Sterling Heights
Vibe CU opened a new full-service branch in Sterling Heights. The newly minted location is complete with a drive-thru and concierge-style teller kiosks that will best accommodate members.
"Our temporary branch allowed us to establish a presence in Sterling Heights while we looked for a permanent home," said Vibe CEO Tom Reagan. "We're happy to be here as this area is certainly growing."
Sterling Heights Mayor Michael C. Taylor led the ribbon cutting ceremony along with members and representatives of the Sterling Heights Regional Chamber of Commerce & Industry.

Affinity Group Credit Union Takes on a New Name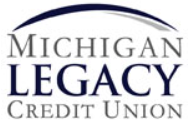 Southeast Michigan's Affinity Group CU has changed its name to Michigan Legacy CU. The new name will allow the credit union to expand its business, make a greater impact within the community and become a greater resource for its members.
"Affinity Group CU has been Michigan based for over 60 years and I couldn't be more excited about the new name," Michigan Legacy CU President/CEO Carma Peters said. "It bridges the legacy of what the credit union has built and the commitment to our members and communities. This name change represents the strategic direction to bring the financial cooperative difference to our new member/owners and our focus on making a difference in the communities we serve. Helping those we are committed to achieve a strong financial legacy and building it together."
"In the spirit of 'people helping people,' our focus has always been to support the growth of the communities we serve," said Matt Jenkins, vice president of marketing & cooperative services. "From supply or fund drives to volunteerism, we've been champions of our local towns, local organizations and local families…that won't ever change."
Members were invited to re-visit any one of Michigan Legacy CU's locations during the week of Oct. 13 for a chance to win prizes, giveaways and much more.

Advia CU Hosts Free Investment Seminars for Women
Advia CU is hosting two free seminars for women to learn how to be competent and disciplined long-term investors on Oct. 21 in Parchment, from 6-7pm. and Oct. 22 in Janesville from 6-7:30pm. The seminar "Women and Investing" will be led by Advia Financial Advisors Leora King and Carol Diest and will address retirement and wealth management issues specific to women.
The goal of the seminar is to help women understand investment basics so that they can gain confidence and become more comfortable investing in a plan that provides a lifetime of financial security.
Topics to be discussed:
· Key investment principles every woman should know
· Important opportunities such as asset allocations
· Differences between financial products: mutual funds and annuities
The program is free but reservations are required. Individuals can register online at: www.adviacu.org/investments or by calling 844.238.4228, ext. 2401.

United Federal Credit Union Investment Arm Provides Complimentary Seminars
UFCU's investment arm, United Investment Planning (UIP), is providing two complimentary seminars on social security retirement benefits on Oct. 19. The sessions will take place at noon and 6:00 p.m. at the UFCU Training Center in St. Joseph. Financial Advisor for CUSO Financial Services, Laura Griffin, will lead the seminars.
"One of the biggest financial decisions people make is when to start receiving social security benefits," Griffin says. "It is important to know your options so you can make the decision that is right for you."
The seminars will cover:
· What the full retirement age is and how benefits are determined
· How retiring earlier than, or later than, full retirement age affects social security benefits
· Why it's important for couples to plan strategies to boost retirement and survivor's benefits
· How working while receiving social security could affect the amount received.
For more information or to reserve a spot, visit https://unitedfcu.com/personal/invest/events/, call (888) 200-7829, or send an email to investments@unitedfcu.com.

CU Direct Expands In Michigan
CU Direct is happy to announce two new additions to its Michigan field team. Credit Union Sales Executive Jill Malczewski and Dealer Account Sales Representative Kelly Goodwin have both joined the CUSO, bringing with them extensive and relevant industry backgrounds that will directly benefit Michigan credit union partners.
"We are very excited that Jill and Kelly have joined the CU Direct team here in Michigan," stated Matt Haydon, regional director. He added, "Their wealth of experience in automotive, lending technology and the credit union Industry will serve the CUSO and Michigan credit unions well. As evidenced by these new hires, we are making significant investments to grow the credit union-owned delivery channel and CUSO model here in Michigan."
To learn more about how the CU Direct CUSO Model helps credit unions capture more member loans while achieving significant processing and cost efficiencies, please contact Credit Union Sales Executive Jill Malczewski at (586) 243-1992 or Regional Director Matt Haydon at (443) 473-7820.

Former MCUL League Representative and CU Advocate Passes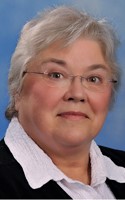 The Michigan Credit Union Community lost a friend and advocate with the passing of Carolyn Miller on Wednesday, Oct. 7. She was 68. Miller worked at the MCUL & Affiliates as a consultant and league representative for over 25 years and served as the League's liaison for small credit unions, where she helped launch the SAS Gazette publication. She retired in 2012.
In Sept. 2002, she and CUSG COO and President Drew Egan completed the first assignment in a partnership developed between the MCUL, the World Council of CUs (WOCCU) and the Macedonia Savings House, by traveling to Macedonia to attend the grand opening of the 5th Savings House facility in the city of Bitola.
During the week Egan and Miller spent with the Macedonian savings and credit cooperative (FULM Savings House), they provided training and preliminary planning with branch managers. They also met with the WOCCU representatives and the FULM Savings House board of directors and general manager.
Carolyn is survived by two sons and seven grandchildren, and was preceded in death by son Scott. Arrangements were by Langeland Family Funeral Homes, Westside Chapel, 3926 S. 9th Street, Kalamazoo. In lieu of flowers, memorials may be directed to Great Lakes Hospice.
Go to main navigation