Know an Outstanding CU leader or CU?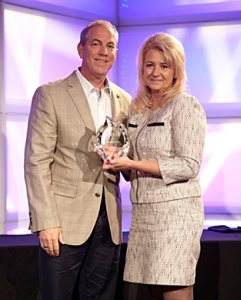 Distinguished Service Award winner, Drema Isaac from Central Macomb Community CU with MCUL President/CEO Dave Adams at the MCUL Awards.
The MCUL Awards honor credit unions and accomplished credit union individuals who have given back to the community and credit union movement in a tremendous way. If you know of a credit union or an individual who has transcended standards by their focus on community, make an awards submission by Oct. 30.
Particular awards for nomination include the following: Credit Union Professional of the Year Award, Distinguished Service Award, MCUL Chapter Effectiveness Award, Outstanding Credit Union of the Year Award, Young Professional of the Year Award, Credit Union Youth Advocate Award and the Innovation Award.
Drema Isaac, the President and CEO of Central Macomb Community CU, won the 2015 DSA.
The DSA recognizes service to the collective Michigan credit union movement reaching beyond just the individual credit union. Isaac has been involved with the credit union industry for over 20 years. In 2002, she became the CEO of Central Macomb Community CU and it credited with its soaring growth. "When Drema came aboard we were a $50 million credit union," said Raymond White Jr. CMCCU Board of Directors Chairman. "Now we are about a $180 million credit union. "
As chairperson of the Metro East Chapter of Credit Unions, Isaac is a major proponent of community building. Under her leadership, over $250,000 was donated to community charities.
The 2016 MCUL Awards will be presented during the AC&E next year, which will be hosted at the Detroit Marriott of the Renaissance Center, June 9-11, 2016.
Users can upload photos, videos, audio, links and other documentation when visiting here.
To watch Drema Isaacs acceptance speech, click here, and watch Isaacs' awards profile video here.
Go to main navigation