Machine May Not Have Set Record, but Zeal CU Scores Incredible Media Response as Part of Sponsorship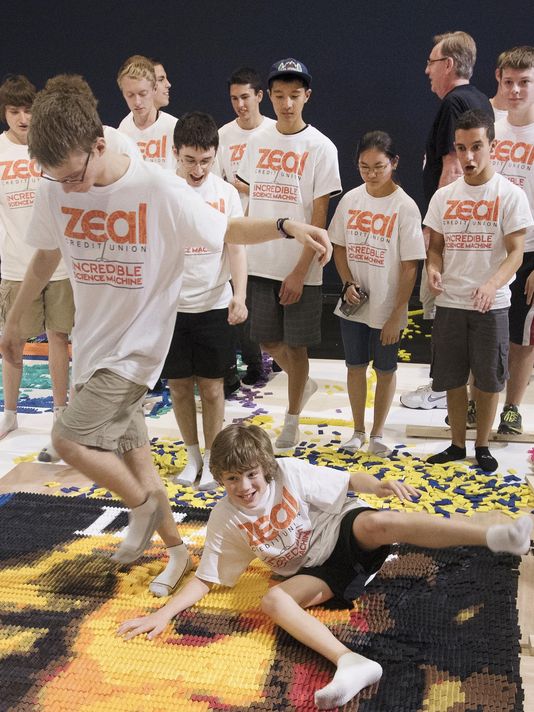 About 15 builders took more than 1,000 hours to build the Zeal Credit Union Incredible Science Machine at the Michigan Science Center in Detroit. (Detroit News photo)
While organizers don't know whether the machine set a record or not, Zeal CU generated a lot of publicity for its sponsorship of the Zeal CU's Incredible Science Machine.
The Associated Press reported that lead builder Steve Price, a student at Michigan State University, said the machine ran from start to finish, but some individual sections failed. He believed that without those sections, the machine wouldn't have enough completed steps to break the record.
The Guinness Book of World Records is conducting its review of the machine.
A spokesman for the Michigan Science Center, which hosted the event, said the record will be close call either way.
World record or not, Zeal scored dozens of media mentions as the title sponsor of the machine.
"When we originally heard about this attempt to break the record, we believed it fell directly in line with one of our guiding principles at the credit union, 'following your passion!' We knew we needed to support these builders in any way we could," said Lisa Fawcett, Zeal vice president of marketing. "As the credit union for hard Working Americans, Zeal understands the hard work and passion required to pursue a dream of this magnitude and we are just happy we could be part of it."
Fawcett said the machine garnered international press.
"Kinda crazy, but it's being picked up around the globe!" Fawcett said. "The Associated Press put it out on the wire, so news outlets all over are publishing the story."
Many websites ran pictures of the young builders on the team wearing Zeal CU shirts.
Below are a few of the outlets that ran stories and pictures of the machine.
Go to main navigation