Michigan Credit Unions Contribute to International Credit Union Day Theme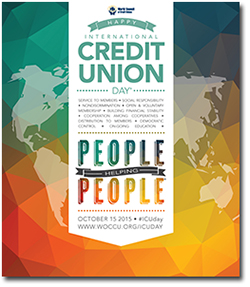 Central Macomb Community CU and Sunrise Family CU helped contribute to this year's chosen message for the International Credit Union Day artwork and theme. CUNA and the World Council of Credit Unions announced the theme for ICU Day would be "people helping people." The theme embraces the credit union philosophy.
ICU Day is celebrated on the third Thursday of October and will take place Oct. 15 this year.
" 'People helping people' has always been central to credit unions' existence," World Council President and CEO Brian Branch said. "This timeless concept resonates well with all generations, especially young adults who strongly value socially responsible organizations that put people before profit."
The theme "people helping people" has appeared in several past ICU Day themes from the 1960s and 1980s. By adding a modern and colorful design, ICU Day has potential to raise awareness of credit union benefits and attract more members worldwide.
"Every day credit unions make an incredible difference in the lives of their members," CUNA President and CEO Jim Nussle said. "ICU Day celebrates the power of our movement, our dedication to the cooperative principles, and commitment to serve the best interests of the more than 100 million credit union members in the Unites States."
Official ICU Day graphics and posters are available for download on World Council's website www.woccu.org/icuday.
Go to main navigation