MCUL Helps Equip Young People With Business Skills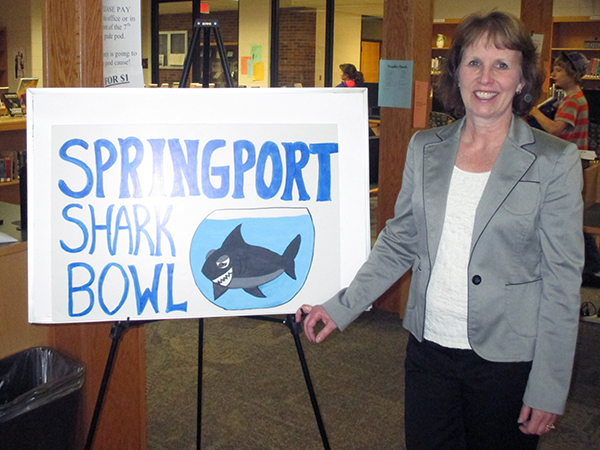 Springport Middle School teacher Denise Hofman organized the Shark Bowl event.
MCUL & Affiliates is again playing a role in helping equip young people with the skills they need to thrive in the real world.
MCUL & Affiliates' Vice President of Education, Renee Werth, helped judge a school business contest modeled after the show "Shark Tank."
Shark Tank is a reality competition TV series in which aspiring entrepreneur-contestants create business presentations and pitch them before a panel of judges in hopes of receiving funding.
The Springport students morphed that idea into a young person's version called "Shark Bowl."
Students, dressed in business attire, pitched their ideas and answered questions about how they came up with the product and to whom they planned to sell it before an audience of judges including Werth and other business leaders.
Some of the ideas included: Silly Dough (a mixture of play dough and silly putty) a tutoring service, a dessert business and a website that shows people how to play the hottest video games.
"It was so inspiring to see these young folks, who were mentored by several wonderful teachers, skillfully present their product or service ideas and then answer questions," Werth said. "What a great learning experience from a forward-thinking school and staff of professionals who really care about the future of their students."
Springport Middle School teacher Denise Hofman said students received invaluable experience cultivating public speaking, marketing and business skills.
"This project turned out far better than I had ever expected," Hofman said. "This event gave them a better understanding of how the business world works. I think it helped them to build their self-confidence and I truly expect that some of these students will become successful business entrepreneurs one day."
An English tutoring service called Grade A won the contest. The winner received a gift basket with donated items from MCUL.
MCUL teamed up with Springport Middle School last summer when the students participated in the Michigan Credit Union League's Teen Financial Reality Fair. They students used MCUL & Affiliates' "Career and Technical Training Guide," to choose a job as part of the exercise.
Go to main navigation