Chairman of State House Financial Services Tours Central Macomb Community CU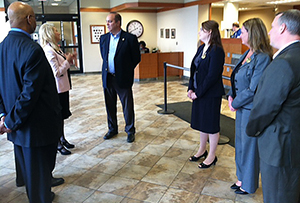 State Rep. Anthony Forlini, above center, talks to credit union leaders at Central Macomb Community CU.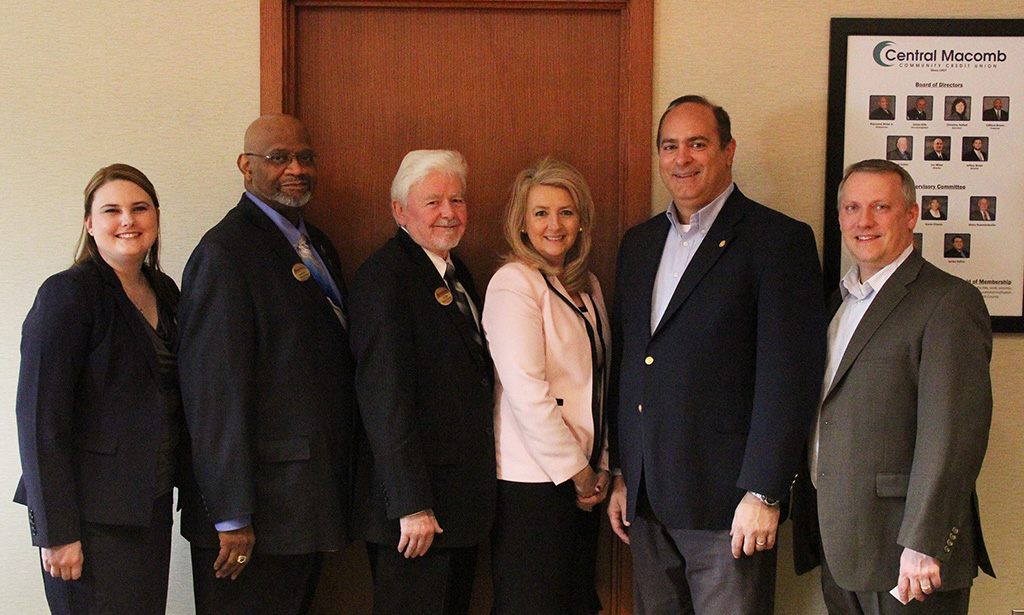 From left are Jennifer Morrison, Raymond White, Edward Cotter, Drema Issac, state Rep. Anthony Forlini and Kirk Hanna.
CLINTON TOWNSHIP – State Rep. Anthony Forlini, R-Harrison Township, toured Central Macomb Community CU where credit union leaders talked to him about a variety of issues facing credit unions.
MCUL & Affiliates is working with Forlini, chairman of the House Financial Services Committee, on a variety of issues including plans to revamp the Michigan Credit Union Act.
CMCCU President/CEO Drema Isaac gave Forlini a tour of the credit union's headquarters. Joining her and the state lawmaker for lunch were Brad Kress, vice president of lending, Motor City Co-Op CU; Steven Andrews, president/CEO of Motor City Co-Op CU; Steve Brewer, CFO, of Michigan Schools & Government CU; Deborah Farney, vice president of retail services for Michigan Schools and Government CU; and Vicki McIntosh, CEO of Belle River Community CU.
During a visit to the finance department, credit union leaders discussed overdraft protection, fraud protection, accounting reviews and CMCCU's upcoming Department of Insurance and Financial Services examination. Forlini was interested in the fact that DIFS would be present for 3-4 weeks during the exam process as well as discussing the EMV chip technology with the fraud protection staff.
In the loss mitigation department, the group discussed the extent to which CMCCU attempts to work with members who are facing hardship.
In human resources, Isaac discussed how CMCCU is about members serving members since every employee is also a member of the credit union. CMCCU has approximately 60 employees at four branches, of which approximately two-thirds are member facing.
Standing in the main lobby, the CMCCU team talked about student literacy programs and an upcoming reality fair at Fraser High School.
In the information technology department, the group discussed daily activity reports, contracting with IT vendors to monitor anti-fraud efforts and other system threats, and other associated issues related to IT. The IT team also discussed working with "white hat" hackers who attempt to hack CMCCU and other financial institutions to proactively identify their vulnerabilities.
Isaac and another staff member took Forlini into the vault where she shared stories about partnering with local law enforcement and how later this week the staff was going to be subject to a mock robbery.
After completing the tour, Isaac shared information about the lending department (located at another branch) and how CMCCU conducted its own mortgage operations but contracted with a CUSO for member business lending. This led to an opportunity to illustrate to Rep. Forlini what a CUSO is and how they operate with credit unions.
Go to main navigation