MSUFCU's McPharlin Receives Lansing Chamber's Community Service Award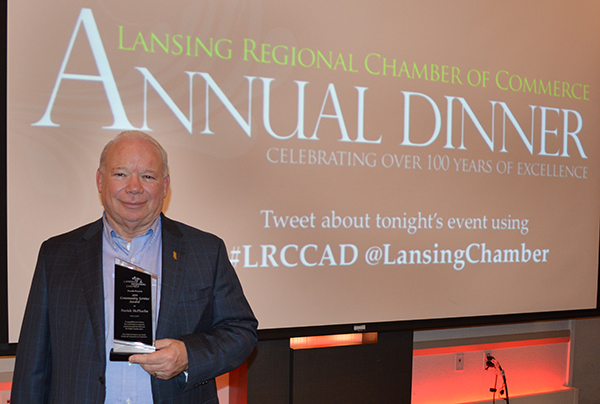 Patrick McPharlin is retiring after 41 years at MSUFCU.
Patrick McPharlin, outgoing president and CEO of MSUFCU, was selected as a recipient of the Lansing Regional Chamber's 2014 Community Service Award.
Serving MSUFCU for 41 years, McPharlin's leadership has led to many corporate community service initiatives over the years, including donations to 485 organizations in 2014. During his tenure, the credit union developed the MSUFCU Internship Opportunity award, which is a scholarship for students who take on unpaid internships, the Lansing SAVE program, which provides financial education and savings accounts for Lansing-area kindergarteners and various other programs to benefit those who live and work in the Greater Lansing community. McPharlin has received many accolades throughout his career, including induction into the MCUL Hall of Fame, and as CEO of the year by the National Association of Federal Credit Unions.
McPharlin has served on boards and committees, including the board of the Lansing Economic Area Partnership, March of Dimes and the MSU Alumni Association.
"I believe that all organizations that do business in a community have a moral and ethical responsibility to contribute to the communities they serve," McPharlin said. "Investing in the community pays off for the community, and I believe it pays off for the people who donate and invest their own personal time."

Go to main navigation