Act Now! BoardSource Training at Leadership Conference Expanded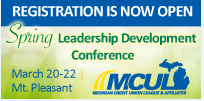 Those planning to attend the Spring Leadership Development Conference but who have not yet registered or reserved hotel rooms should act fast, as session availability and hotel rooms are becoming a hot commodity. The popular event for directors and CEOs takes place March 20-22 at the Soaring Eagle Casino & Resort in Mount Pleasant. While hotel rooms are still available, they are being held on a space-available basis at a negotiated rate until this Friday, March 6, so attendees are highly encouraged to book accommodations soon.
Due to the overwhelming popularity of a two-part workshop on "Sharing Leadership: The Board & Staff Partnership," an additional series has been added on Sunday to accommodate those waitlisted, as well as to create seating for more interested participants. Being facilitated by BoardSource, a nationally recognized leader in nonprofit governance, the second workshop has been added to the agenda for Sunday morning. While advanced registration is necessary for the workshops, there is no additional charge for registered attendees to benefit from the valuable training.
Well-respected industry consultant Pierre Cardenas will lead a very timely keynote presentation at the conference on the "Credit Union Climate: An Industry in the State of Change." The Spring Leadership Development Conference is targeted toward both new and experienced board members and the agenda includes training on "Employee Dishonesty Embezzlements," "How Apple Pay Changes Everything," "Bank Secrecy Act for Board Members," state law update and CUNA Volunteer Achievement Program sessions on "Introduction to Mortgage Lending" and "Financial Management."
An optional Saturday networking event for a tour and beer tasting at the Mountain Town Brewing Company is also proving to be highly popular, with tours leaving at 2 p.m. and 3 p.m. Space is limited for this opportunity, which is open for attendees and their guests, so be sure to register today to secure a spot.
Conference registration is only $399 per person for the first four attendees from the same credit union; five or more participants are $350 per person. The event offers a tremendous value without the added expense of out of state travel.
Go to main navigation