Honor CU Helps Fund Schools Through Video Contest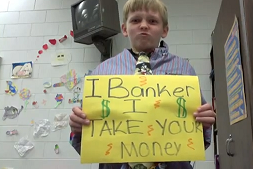 Buchanan Middle School students won Honor's first video challenge
Honor CU is using an innovative idea to help create buzz about its "on-the-go" products while helping lucky schools win money for their classrooms.
Here's how it works: Students create and submit 30- to 60-second videos showcasing Honor CU's "on-the-go" products and services. The creators of the winning video will receive $3,000 for their school; the creators of the second-place video receive $1,000 for their school.
The first place winning video will be showcased in Honor CU's advertising. The second place winner will be featured on Honor CU's YouTube Channel.
"The Honor CU Video Challenge has been another great way for Honor to reinvest in our local education systems," said Jeff Pisarsky, the vice president of marketing at Honor CU. "Our Video Challenge encourages students to think outside the box and is rewarding for both the classrooms and Honor Credit Union as we see the creative and impressive outcomes. Honor Credit Union was founded by educators, so continuing to support the staff and students of our local school systems remains a very important part of our identity."
This is the third year for the video challenge. Videos must be entirely created, filmed and edited by students to be considered. This video from Buchanan Middle School students won first place during the first year of the contest in 2013.
Contest official rules and regulations and instructions on submission are available here.
Go to main navigation