Credit Union Advocates Flock to Lansing for MCUL's Government Affairs Conference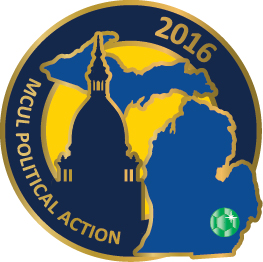 There's a simple reason more than 125 credit union professionals from across Michigan were gathered together in Lansing.
"It's about the future of credit unions—it's about how we prosper and grow," said Carol Wagner, CEO of Muskegon-based Best Financial CU.
Wagner and others were attending Michigan Credit Union League's annual Government Affairs Conference, a two-day event featuring insight and advocacy advice from CU insiders, legislators, political analysts and more.
Wagner said that one of the biggest reasons she attends the event is to get talking points on how to best advocate for the movement when speaking to legislators. "I appreciate the talking points," she said. "What's the message that I need to send? The league does a great job with that."
This is the second MCUL GAC for Alissa Johnson, mortgage sales manager at Wanigas CU in Saginaw, who praised the strong network of dedicated advocates the event brings out.
"It's always nice to see the rest of the advocates and to have a representation of our voice," she said, adding that she gets a lot out of hearing from other credit unions' advocacy efforts. "We all learn from each other."
Brian Mathiot, collections manager at My Personal CU in Wyoming, Mich., has been a credit union member for many years but only recently entered the movement as an employee. He said attending the GAC was important for him because legislation has "a day-to-day, week-to-week, month-to-month, year-to-year impact on everything we do."
Citing his role as a collections manager and the impact payday lending has on his credit union's members, Mathiot said he was especially interested to hear what presenters said about the current push to expand payday lending in Michigan, and MCUL and others' attempts to stop that. He said he appreciated the advice GAC presenters offered on how best to humanize and personalize what the credit union does when advocating to legislators.
"We're all here to improve peoples' lives, and that needs a human face," he said.
As someone new to the credit union movement, Mathiot added that the strong attendance at the GAC sent a positive signal about the future of the industry.
"To know there's lobbying and positioning going on to make the industry stronger is very exciting to me," he said.
More coverage of MCUL's GAC is available on mcul.org, including video of House Financial Services Committee Chairman Tony Forlini discussing the importance of credit union advocacy and efforts to update the Michigan Credit Union Act.
Go to main navigation