ELGA Donates $15K to Hurley Hospital in October for Support Programs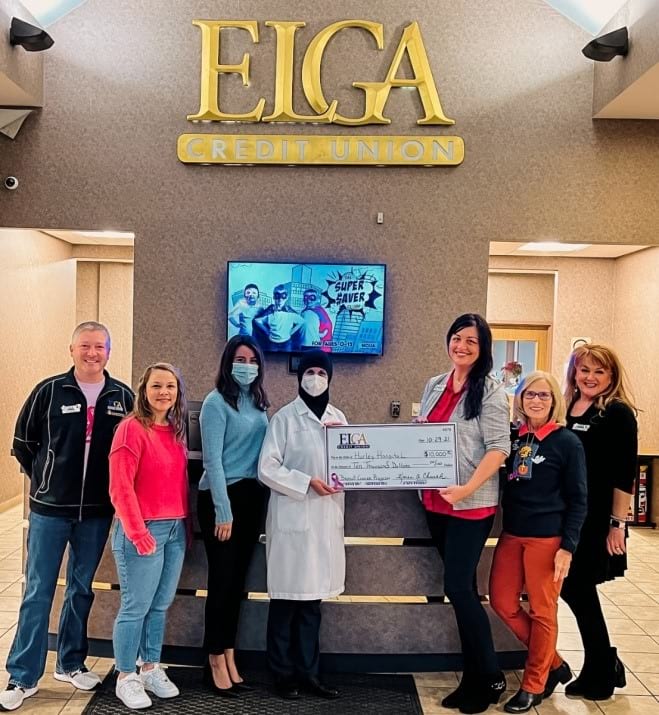 In October, ELGA Credit Union donated a total of $15,000 to Hurley Hospital — $10,000 to Hurley Hospital's Breast Cancer Navigation Program for Breast Cancer Awareness Month and $5,000 to fund memorial boxes that are given to grieving parents to recognize Miscarriage & Infant Loss Awareness Month.
The Breast Cancer Navigation Program supports those navigating the complicated and stressful world of breast cancer, providing highly-trained registered nurses to support patients from diagnosis through treatment and reconstruction and throughout long-term follow-up.
"Like so many others, breast cancer changed my life when it took my mom from me in 2015. Right away, I knew that I needed to get involved in a bigger way," said ELGA Lending Manager Mallory Hazard. "Knowing that I can make an impact in the lives of others battling this terrible disease, and that all efforts whether big or small can be life changing for someone, means a lot to me. I am so thankful that in October, with the support of ELGA Credit Union associates and members, we're able to make this life-changing impact. Thank you to everyone who supported us this year."
ELGA kicked off the month with an all-day fundraiser at its Burton branch. Donations were also collected at 13 branch locations throughout the month of October. All funds raised will support local patients being treated at Hurley Hospital.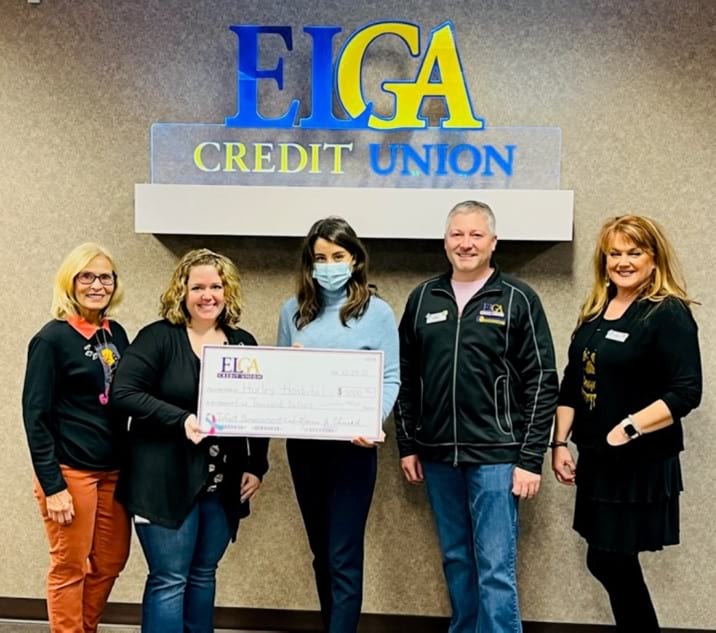 The credit union also supported grieving parents at Hurley Hospital during Miscarriage & Infant Loss Awareness Month to show support for hundreds of unfortunate Michigan families.
"I am extremely pleased that we are able to give a donation to Hurley Medical Center for memorial boxes that are given to parents who are unable to bring their babies home. This donation is very close to my heart as my husband and I lost our beautiful daughter Haven Grace at 38 weeks on July 30th of this year," said ELGA Branch Manager Sarah Thompson.
"Knowing that we were going to leave the hospital without our little girl was devastating. We were beyond thankful that Hurley prepared a memorial box for us filled with items to remind us of our beautiful angel," she continued. "This donation to Hurley will help other parents that have lost their babies and will allow them to keep their babies memory alive."
Remembrance boxes given to grieving families often include hand and footprint keepsakes, baby's first blanket and hat and resources available to them. In remembrance of these babies, ELGA associates wore pink and blue ribbons and participated in a wave of light on the evening of Oct. 15.
Go to main navigation