Alliance Catholic Credit Union Announces Formation of Alliance Catholic Foundation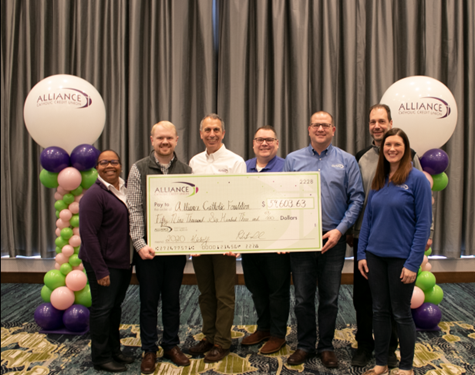 In February, Keith Burke, VP of marketing at Alliance Catholic Credit Union, announced the formation of the Alliance Catholic Foundation during an all-staff meeting. A check from Alliance Catholic was presented to kick-start the Foundation.
Alliance Catholic Foundation was formed to assist with carrying out the mission of Alliance Catholic, to help those less fortunate in the communities it serves. The formation of the Foundation is in direct response to the growing number of individuals, families, parishes and agencies feeling the weight of their circumstances.
Alliance Catholic Foundation has two primary areas of focus: Education and Improving Quality of Life
Education includes scholarships and financial literacy advocacy. The annual Make A Difference and Live It. Show It. Share It. Scholarship programs support families attending K-12 Catholic Schools and members pursuing a post-secondary education. The Foundation works with credit union staff to offer financial literacy presentations to community groups, university partners and other organizations.
"We have dedicated $40,000 for scholarships," stated Burke, who also serves as president of Alliance Catholic Foundation. "And, we know all ages can benefit from learning more about how to better manage their money."
In an effort to celebrate the launch, Alliance Catholic Foundation announced 12 Make A Difference Scholarship winners that exemplified kindness, compassion, understanding and faith for those in need. To be eligible, members of the credit union were asked to submit one photo and a six-word story that demonstrated how they have lived their faith by helping someone in need in their community. These scholarships will help offset the cost of tuition for the upcoming 2020-2021 academic year. A full list of winners and their submissions can be found at AllianceCatholicFoundation.org/Events.
The annual Heart for the Holidays program is the cornerstone of efforts to improve quality of life. The Heart for the Holidays program raises over $30,000 with funds going to provide a special Christmas for several families in need. Surplus funds are used by the Foundation to support community-giving efforts throughout the year.
"It's heart-warming every year to see our staff, business partners and members come together to give back," stated Rob Grech, president/CEO of Alliance Catholic Credit Union and Chairman of the Board for Alliance Catholic Foundation. "Their collective generosity allows us to help local parish families at Christmas and support Catholic organizations doing great work in our communities throughout the year."
Organizations interested in applying for grants can visit AllianceCatholicFoundation.org for information.
Alliance Catholic Foundation is a 501(c)3 organization, meaning that contributions from corporations, members, partners, and other individuals will be tax deductible. The Foundation is run by Alliance Catholic employees who volunteer their time to organize and execute the programs.
How do donate:
Alliance Catholic Foundation is registered as an eligible non-profit organization with Smile.Amazon and Kroger Community Rewards. Supporters can select the Foundation and direct a percentage of eligible purchases to the Foundation when shopping at Amazon or Kroger.
Supporters interested in helping to fund the Alliance Catholic Foundation can also send check donations to Alliance Catholic Foundation Attn. Operational Committee at 26913 Northwestern Hwy. Ste. 520 Southfield MI 48033
Go to main navigation