A Message from MCUL About COVID-19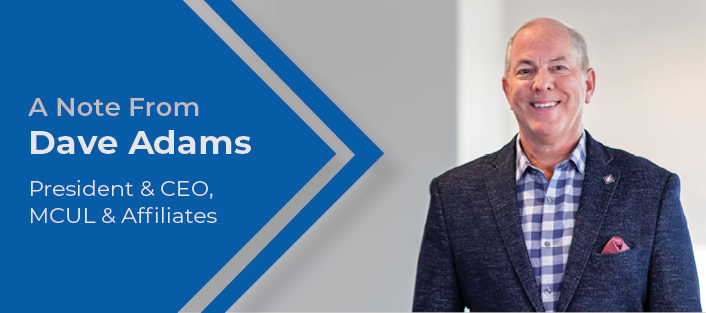 Dear Colleagues,

We believe that nothing is more important than the health and well-being of our members, employees and the communities we serve, and that is especially true when challenges arise.

We know that unprecedented times like this can make for uncertainty, which is why I want to make sure all of our members know that we are here to support you.

We're working together to achieve the best possible outcome, and while the current circumstances may be unusual, our commitment to you remains the same. As we monitor your needs and how they may change in the near future, we will adapt our service accordingly.

The following are a few of our ongoing efforts:

We're Here for You: We are committed to providing the best possible service while helping our employees stay safe. Our team is diligently working remotely to continue uninterrupted service by responding to emails and calls should you have any questions.
Coronavirus Resources: We have set up a COVID-19 resource page to provide credit union-specific resources and guidance, links to state and local resources and a credit union forum where you can discuss ideas, concerns and best practices on coronavirus-related topics. We are constantly monitoring developments regarding the pandemic and will continue to update our resource page as necessary.
Education Events Updates: I encourage you to visit our MCUL Events Update page for more information on conference scheduling, postponements and efforts toward increasing webinars and virtual trainings. If you have specific event concerns, please feel free to contact our education team at educate@mcul.org.

Community Response: We are also communicating your efforts and best practices here. This page is dedicated to sharing Michigan credit union responses to COVID-19. I encourage you to take a look, see how your peers are offering a helping hand to the 5.5 million members in our state — whether it's to gather ideas for how your credit union can reach out to members or just for the sake of seeing how our movement, once again, is delivering on our motto "people helping people."
We take your trust very seriously and are dedicated to helping you during this time of uncertainty. Please stay safe and know that we are doing everything we can to benefit our members, employees and communities.

Don't hesitate to reach out to me or MCUL EVP/COO Patty Corkery if you have any comments, questions or concerns.

Best Regards,
Dave
Dave Adams
President/CEO
Michigan Credit Union League & Affiliates
Dave.Adams@mcul.org
Go to main navigation