LAFCU, Lansing Lugnuts Donate $6K for Veterans in Higher Ed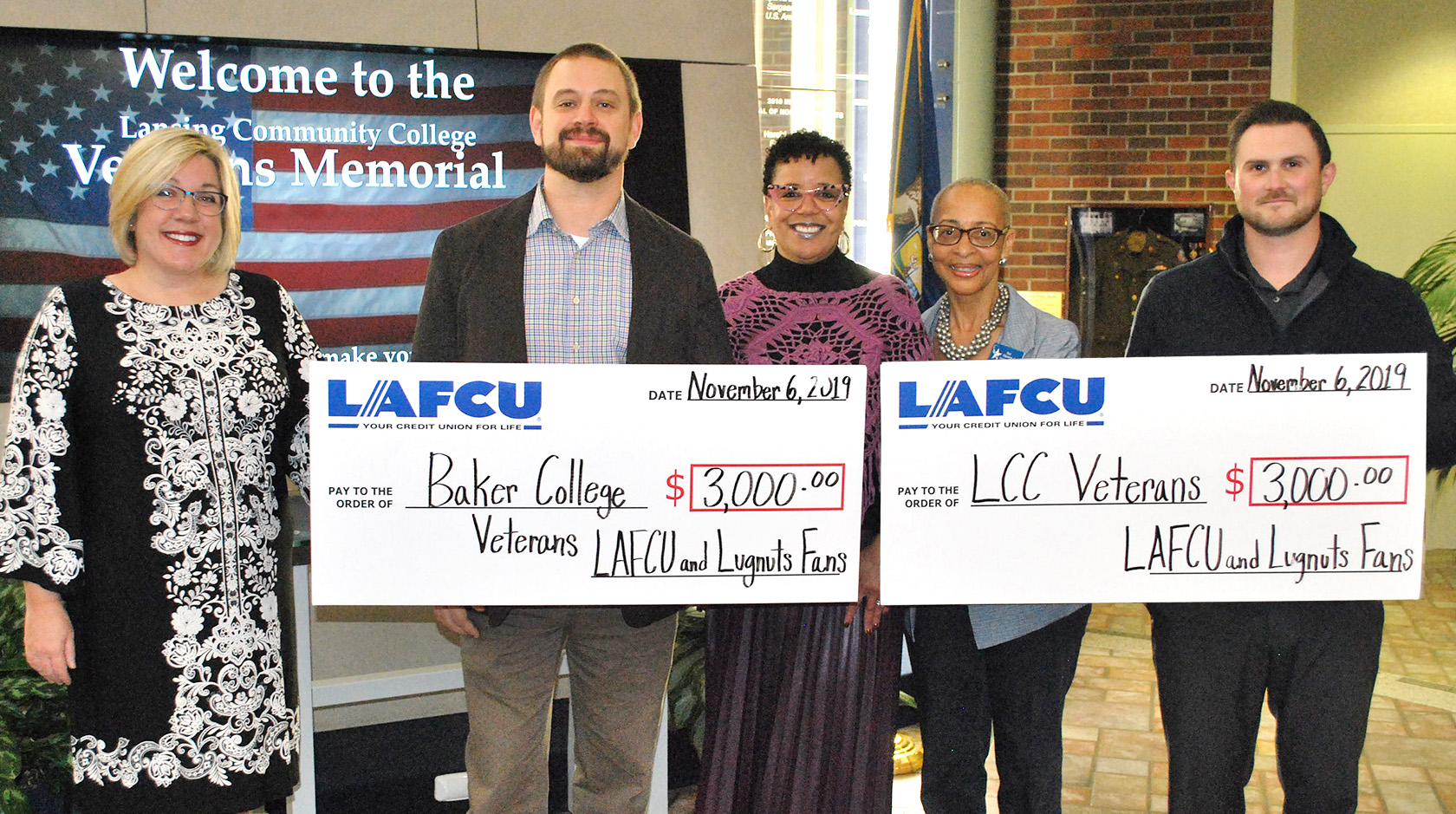 Veterans furthering their education at Lansing Community College (LCC) and Baker College now have access to an additional $6,000, donated to the schools by LAFCU and Lansing Lugnuts.

Each school received $3,000 during a private ceremony at LCC's Veteran's Memorial, Nov. 6. The funds comprise a donation by LAFCU and thousands of $1 donations by Lansing Lugnuts fans who participated in an in-park promotion before LAFCU Fireworks Spectaculars.

"We are awed by the support of Lansing Lugnuts and their fans," said Kelli Ellsworth Etchison, LAFCU chief marketing officer. "The ballpark, with its icons of American culture – baseball, hot dogs and fireworks — was the perfect venue to recognize the role our military heroes play in defense of our democracy and freedoms."

The scholarship fund was borne out of the LAFCU Community Champions program which honored veterans at Lansing Lugnuts games. The in-park promotion "LAFCU Launch" allowed fans to donate a minimum of $1 to the fund every time they launched a tennis ball onto the field for a chance to win a gift card.

"It's good to work with a strong partner such as LAFCU that cares about the community," said Nick Grueser, Lansing Lugnuts president. "And our fans, as always, came through in honoring our veterans."

Andrew Cosgrove, director of LCC Office of Veteran and Military Affairs, said, "This donation will be of great help to our military-connected students who sometimes need financial assistance when VA benefits are delayed, when they don't have enough benefits to finish their degree, or to purchase books or other school supplies."

"We are humbled by the generosity of LAFCU and the thousands of Lansing Lugnuts fans for our student veterans," said Christy Cooper, Baker College military education officer. "These funds will help provide peace of mind to students facing unexpected financial obstacles."

Education is one of the priorities of LAFCU's community service program. This stems from the belief that an educated community is a strong, vibrant, engaged community. Ellsworth Etchison noted the donations to LCC and Baker College are an example of this. They will enable many veterans to achieve their education goals, which will ultimately strengthen their families and communities.
Go to main navigation