LAFCU Awards College Scholarships to Three Women Pursuing New Careers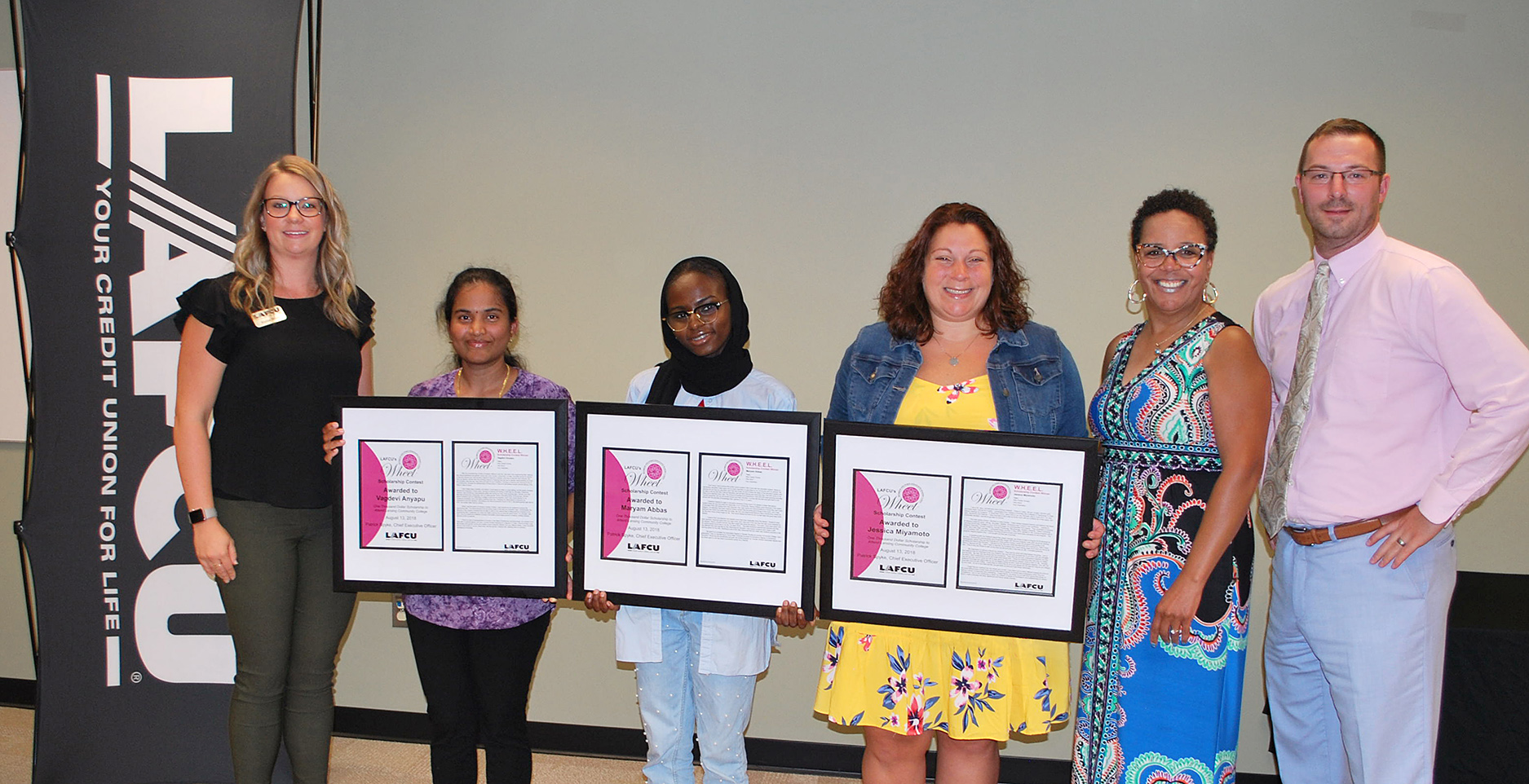 Three women who see education as the direct path to a new career have been selected winners of the 2018 LAFCU Women Helping Educate Every Lady (WHEEL) Scholarship Essay Contest.
The winners are Vagdevi Anyapu of Lansing, Maryam Abbas of East Lansing and Jessica Miyamoto of Holt. Each woman receives a $1,000 scholarship to attend Lansing Community College (LCC) in fall of 2018.
"The path to a career is often interrupted by family obligations, especially for women," said Kelli Ellsworth Etchison, LAFCU's chief marketing officer. "We're proud to select Vagdevi, Maryam and Jessica as the 2018 WHEEL winners and as role models for others, demonstrating it's never too late to pursue a career for which you are passionate."
Winners were determined by their one-page essays about their career choice and inspiration to pursue that career.
Vagdevi Anyapu is returning to school to enter the health care information technology (IT) field. Shortly after completing training as a dentist in India, she and her husband moved to Michigan. Learning how to live in a new country and caring for her son was her full-time job for a few years. Now, she is inspired by her husband's work in IT and will start classes for a certificate as a computer software tester, a career path that was not traditionally open to women in India.
"With degrees in medicine and IT, I hope to help bridge the gap that breaks with gender norms and creates a new crossover between two very different fields," Anyapu said. "I want to be a role model to my son, future kids and the women with whom I interact."
Maryam Abbas, a 2016 graduate of East Lansing High School, is using the LAFCU award to complete an associate degree at LCC, then transfer to Ferris State University to pursue a bachelor's degree in elementary education. She is inspired to give back to her community and to her parents.
"I love our education system and how it can open doors to opportunities students can't even imagine," Abbas said. "Having been the target of harassment because of my Muslim faith, I want to provide a safe learning space for students."
Jessica Miyamoto, a wife and stay-at-home mother to three children, will apply the award to her first semester in LCC's nursing program. She completed prerequisites attending LCC part time since 2016, and has timed entering the full-time program concurrently with her twin daughters beginning kindergarten.
"My inspiration is my children," Miyamoto said. "It's important for children to see their parents succeed and struggle to succeed, as my kids see me study and do homework. I hope that by doing my job well—providing selfless, high-quality care to my patients—my children will understand the importance of compassion for others."
LAFCU created the WHEEL program to encourage women to pursue the education needed to enter or re-enter the workforce or to advance their careers. The scholarships support the credit union's long-standing "people helping people" mission.
Go to main navigation