Meet the 2018 Crashers: Cheyenne DuVerney and Darci Heath
Cheyenne DuVerney, Glennie Assistant Branch Manager, Northland Area Federal Credit Union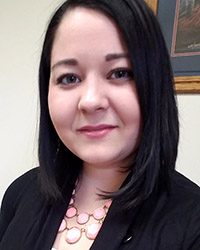 Cheyenne was raised in the small northern Michigan town of Rogers City. After graduating high school, she attended Central Michigan University and Harding University as an English major. She continued to work while putting herself through school and just recently graduated from Southern New Hampshire University with an associates degree in Business Administration.
Cheyenne began her credit union career in 2014 as a part-time MSR with Northland Area Federal Credit Union. While with Northland, she has invested herself in the credit union and transitioned through many positions including MSR I, II and III, Floating MSR, Call Center Representative and now Assistant Branch Manager for the Glennie branch. Cheyenne is very passionate about her role at the credit union and hopes for continued growth. She is very adaptable and tries to assist in as many ways as possible for her members and fellow credit union employees. Her favorite part of working at the credit union is the ability to help where help is needed and to also improve members' financial lives.
In her spare time, Cheyenne enjoys long hikes with her two dogs, kayaking down the Ausable River and camping whenever possible.
Darci Heath, Sr. Contact Center MSR, KALSEE Credit Union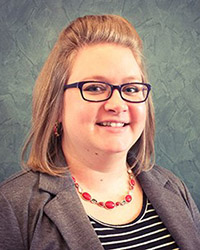 Darci has been in the financial industry since 2010. She started at Lake Michigan Credit Union as a teller and transitioned to KALSEE Credit Union in the spring of 2014. At KALSEE, she has held the roles of teller, head teller, indirect funding loan officer and now Sr. Contact Center MSR. She loves working for KALSEE because she feels like she is working with family and serving members like family. KALSEE's motto of "our family serving yours" is a huge part of why she chose to work for KALSEE.
Darci grew up in a small farming community just south of Kalamazoo. She graduated from high school in 2008 and went on to attend college at Kalamazoo Valley Community College, where she earned her certificate in Supervisory Leadership. She started in the financial industry just part-time to help pay for college, and didn't realize how that decision would drastically change her future forever. The more she got to know the industry, the more she fell in love with helping her community through achieving personal financial success.
Darci hopes to continue to educate her community on the importance of finances, especially reaching out to the youth in the community. She one day hopes to have a small credit union branch inside area middle and high schools. She is very excited to be part of the Crashers program for the 2018 AC&E and hopes that it will allow her to broaden her horizons and meet and connect with new people.
Go to main navigation