Michigan Credit Union Community Loses Longtime Advocate Jerry Erickson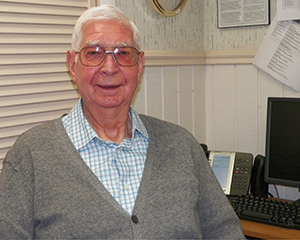 With heavy hearts, the Michigan Credit Union League (MCUL) reports the passing of Jerry Erickson, who served Northland Area Federal Credit Union as an advocate and volunteer for 46 years.
Erickson, who was 84 years old, joined the credit union's credit committee in 1967 and was appointed to the board of directors on Nov. 26, 1968. He served as board chairman for 12 years, board secretary for many years and served as vice chairman of the board for 17 years.
He retired from the board on Sept. 18, 2014 and was appointed as Northland Area FCU's first director emeritus shortly thereafter.
Mr. Erickson was passionate about the credit union movement and instrumental in promoting Northland, the Blue Ox Chapter and MCUL in their political action fundraising (PAC) efforts. His years as a committed leader and volunteer at Northland will have a lasting impact.
"Jerry was a great man, dedicated to the credit union cause and a true champion for our advocacy efforts," said MCUL CEO Dave Adams. "He was always raising money for the PAC and encouraging us all to wear our PAC pins. He led by example, showing up in Washington, D.C., Lansing and back home, in Oscoda, to meet with lawmakers and staff to be sure they all knew that credit unions are special and need to be protected and supported."
In 2015, Northland Area FCU created the Jerry Erickson Education Scholarship to reward local students for leadership in community service and academic excellence.
"I will always have very fond memories of Jerry's strong, passionate and kind leadership on behalf of Northland Area FCU, the Blue Ox Chapter of Credit Unions and MCUL," said Adams. "I remember him, even in poor health, showing up at what will be his last MCUL business meeting last June and how he admonished us to be more visible in our PAC fundraising and advocacy efforts. His great smile was a little less visible through the physical adversity of the past several years, but he was a cheerful and enthusiastic advocate for all that credit unions stand for."
Beyond his credit union activism, Jerry leaves behind a loving and devoted wife in Donna, a wonderful posterity and great friends like Howard and Jewel Spencer.
The Michigan credit union community will not be the same without Jerry.
The family will welcome friends on Friday, Jan. 19, 2018 from 2:00-4:00 p.m. and 6:00-8:00 p.m. and again on Saturday from 10:00-11:00 a.m. at Buresh Funeral Home in Oscoda. A funeral service will be held on Saturday, Jan. 20, 2018 at 11:00 a.m. at Buresh Funeral Home in Oscoda.
Go to main navigation