Community Choice Awards Member with $5,000 through Save to Win Program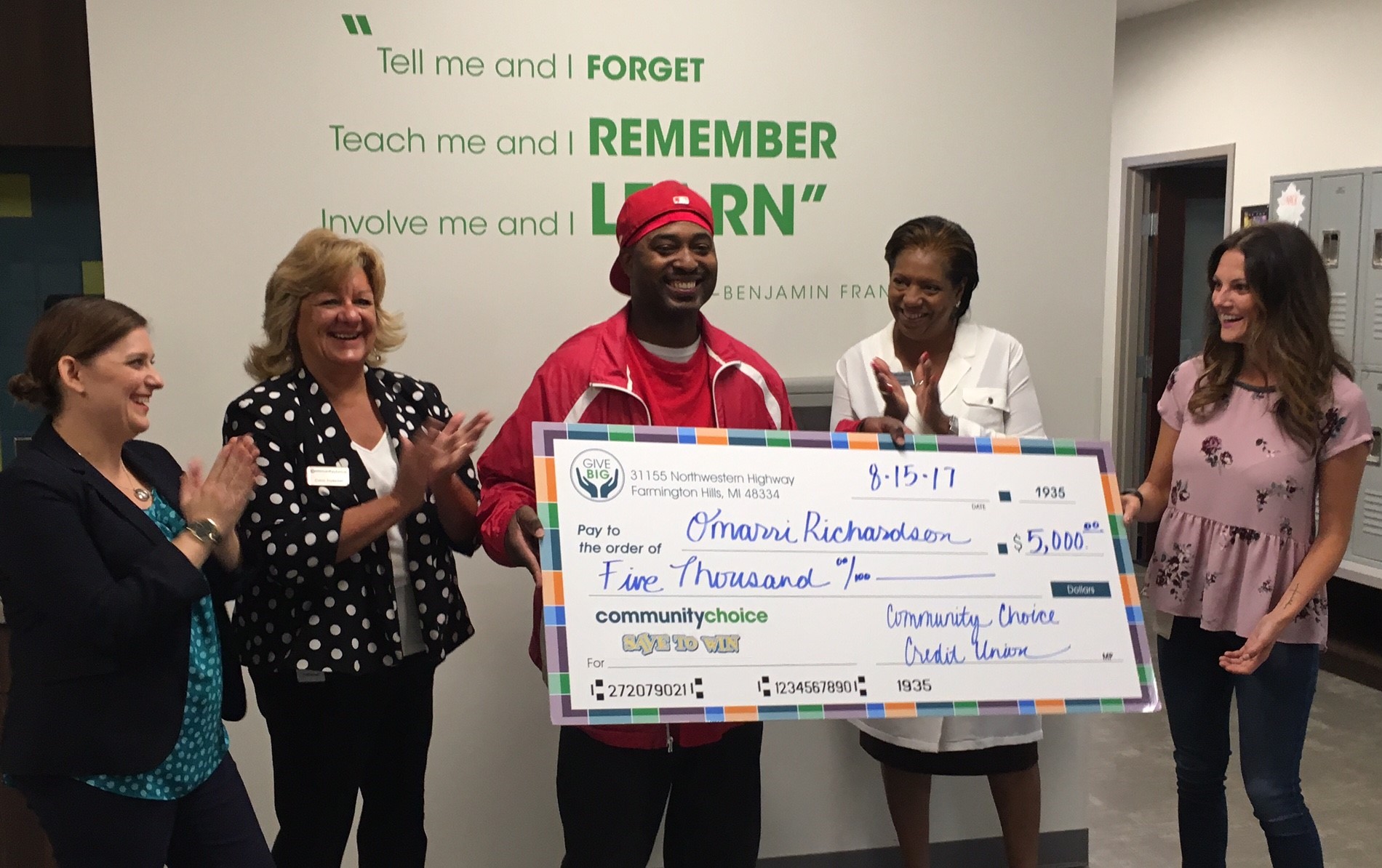 Farmington Hills-based Community Choice Credit Union surprised a long-time member and Detroit native, Omarri Richardson, with a $5,000 check on August 15. The presentation was held at Community Choice's state-of-the-art member contact center in Warren.
Richardson has been a member of Community Choice for 14 years.
"To me, credit unions are more for the people," he said when asked what the credit union has meant to him. "That was the main reason I got with a credit union." He originally became acquainted with credit unions through a car refinancing. Ever since, he said he always wants to be with at least one credit union.
Currently working two jobs, Richardson uses Save to Win, a prize-linked savings account, to maintain healthy savings habits. He previously won a smaller $25 prize for his participation in the program.
"Save to Win is kind of like having an extra savings account," said Richardson. "It just helps you save. Since you can't touch the money for a year, I put a certain amount in every month and know that, at the end of a year, I'm going to have some kind of savings coming back."
Save to Win is a program exclusive to credit union members. It was designed as an alternative to lottery and gambling which savings-poor consumers often use in lieu of contributing to their long-term savings. Community Choice Credit Union believes in helping their neighbors achieve the life they desire and is keenly focused on educating its members and communities. The Save to Win program enables members to save in smaller increments, earn a competitive interest rate and play a no-cost game that can result in big wins.
When asked if he had any plans for his award, Richardson said it will help him better pursue his passion. On the side of his two primary jobs, Richardson is a day trader and is going to use half of the award amount for his investments. "Day trading is definitely my passion [and this] definitely helps."
Managed by CU Solutions Group, Save to Win is offered to credit union members in multiple states, making this an even greater surprise for a local resident. Participants earn entries into monthly and quarterly drawings for every $25 they contribute to their savings.
For credit unions looking to learn more about Save to Win, you can register for "Building Nest Eggs & New Memberships," a free webinar about incentivizing smart saving and attracting new members.
The webinar is being held Aug. 29, from 2–2:45 p.m. However, the webinar will be recorded and made available to those not able to make the live presentation.
Register here for the "Building Nest Eggs & New Memberships" webinar, and contact Jessica Thelen for additional info on Save to Win.
Go to main navigation