In Brief...
Kellogg Community Credit Union's Red Nose for Kids Food Drive
Kellogg Community Credit Union (KCCU) is holding their annual Red Nose for Kids food drive in conjunction with Red Nose Day, which is May 25 this year. Red Nose Day is "a special day to have fun, come together and make a difference for kids who need our help the most - here in the US and around the world," as stated on the Red Nose Day website.
For the third year in a row, KCCU is asking members of the community to bring kid-friendly food items such as single-serve non-perishable fruits, vegetables, meals, juice, and snack items to any of our branch locations between May 15 and May 27. Monetary donations will also be accepted. Everyone who donates will receive a red nose (while supplies last) in exchange for their food or monetary donation throughout the food drive. 100 percent of the food and monies collected will go to the Food Bank of South Central Michigan.
"Our Red Nose for Kids food drive has been such a success the last two years, and our staff and members had so much fun with it, we decided to do it again this year," stated Tracy Miller, KCCU's CEO. "With children in our communities being out of school for the summer, they no longer have access to the free meals they were eligible for from their schools. We hope that our collection will help fill this gap, and they will receive the nourishment they need to be healthy for the summer."

Alpena Alcona Area Credit Union Receives Sunrise Side Best Awards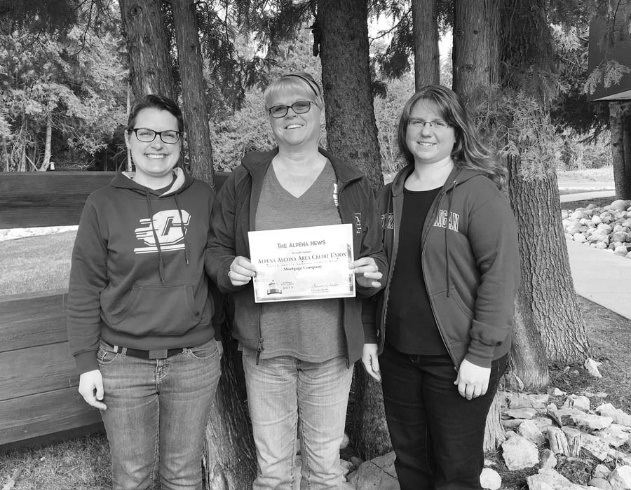 Alpena Alcona Area Credit Union (AAACU) was recently awarded Sunrise Side Best Credit Union and Best Mortgage Company.
Each year The Alpena News puts out a survey for community members to vote on local area businesses in various categories for the best in the business on the Sunrise Side of Michigan.
AAACU has been very fortunate to receive both awards for many years and is grateful to the community to continue to vote AAACU Best Credit Union and Best Mortgage Company.

MCCU Donates Computers to Marshall Academy
Marshall Community Credit Union recently completed an organization wide computer refresh. Rather than disposing of the computers, MCCU's VP of Information Technology, John McKenzie, and IT applications analyst, Silveria Luna-Stepp, cleaned the hard drives and returned each machine to its original factory specifications.
"Our technology refresh plan allows us to keep up with the technology to serve members while giving gently used equipment back to the community," McKenzie said. "Often hardware which is no longer compatible with MCCU's primary systems still has remaining usefulness for others," he continued.
The computers were then donated to Marshall Academy where they will be using them in their school computer lab. "We are very thankful for the donation," said Marshall Academy Headmaster, Leslie Katz. "They will be immediately put to use here at the school."
Go to main navigation