Credit Unions Rally to Keep Family Service Buildings Open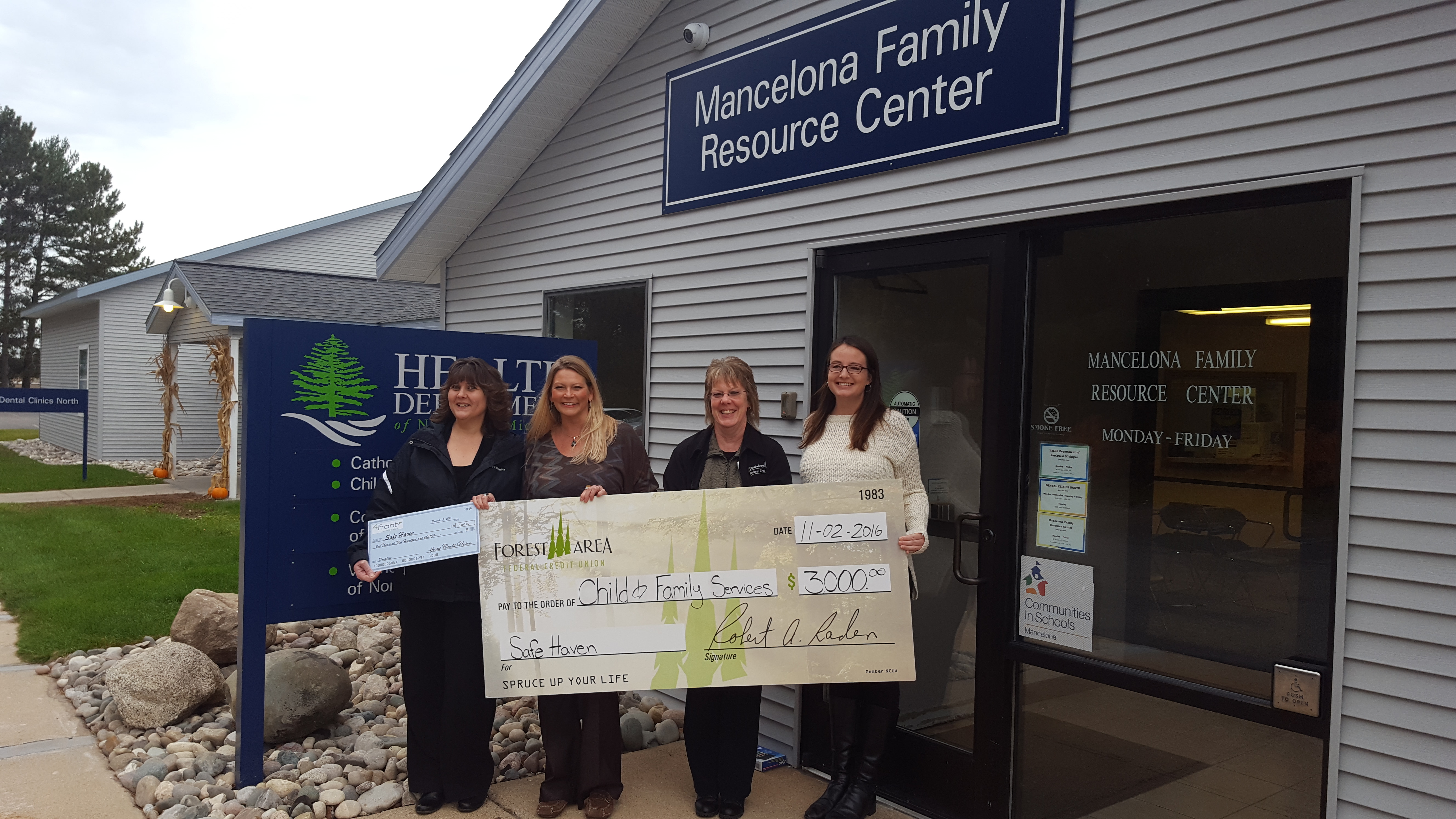 Forest Area Federal Credit Union and 4Front Credit Union are pleased to announce the presentation of funds totaling $4500 to Safe Haven Supervised Visitation and Safe Exchange Program in a joint effort to ensure that these important services to families in the Kalkaska and Antrim Counties continue.
Representatives from Forest Area Federal Credit Union and 4Front Credit Union presented a check to the Mancelona Family Resource Center in Mancelona on Nov. 2 to present Safe Haven with the funds.
"Since 2004, Safe Haven has facilitated more than 25,000 supervised visits and safe child exchanges for more than 900 battered mothers and 1200 children in northern Michigan. Currently, this program facilitates an average of 178 supervised visits and 184 child exchanges every month between our sites in Traverse City and Mancelona," states Erin House, JD, OVW Safe Haven Grant Project Coordinator in her grant application. "During some of the most stressful and volatile times in families' lives, our community needs Safe Haven – a secure space with specially trained staff that can ensure that parents establish or maintain healthy relationships with their children. Family members, strangers and even the police cannot provide what Safe Haven provides. We cannot afford the risk to children and adult victims that will result if Safe Haven closes its doors."
Safe Haven recently lost other grant funding that provided the financial support to keep the Mancelona location open.
"Child and Family Services is deeply grateful to Forest Area Federal Credit Union and 4Front Credit Union for their generous donations to support the Safe Haven Program. After the recent loss of federal funding for the Safe Haven program, our Mancelona site was in danger of closing. These generous donations will fund our building operation expenses in Mancelona for the next five months ensuring that this site remains open to serve families from Antrim and Kalkaska Counties while we secure additional funding. Domestic violence impacts hundreds of women and children in our community every day. It is heartening to see community businesses like Forest Area Federal Credit Union and 4Front Credit Union step up and pledge financial support for this vital program which ensures the safety of children and their parents during child visitations and exchanges."
"Safe Haven exists to ensure the safety and comfort of the often forgotten victims of family conflict – children," said David Leusink, CEO of 4Front Credit Union. "We're pleased to join with our friends at Forest Area Federal Credit Union to make certain this vital safeguard continues to be available to northern Michigan youngsters."
"Credit Unions are built on a principle of 'people helping people'. We are proud to be able to partner with 4Front to make this award and to be able to help those that are going through one of the most difficult times in their lives," shares Lisa Bandlow, Chief Administrative Officer for FAFCU.
Go to main navigation