Vibe Credit Union Donates $2,700 to the American Cancer Society
Vibe Credit Union raised $2,700 for the American Cancer Society's Southfield Corporate Relay for Life that took place on Sept. 8. To raise money for the relay, employees at each of Vibe's 10 locations participated in a bake sale along with summer hat day, vacation t-shirt day,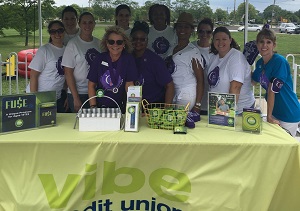 and jean day. At the event, Vibe won an award for the highest donation among the 8 companies who participated.
"It was great to see our staff embrace the opportunity to have fun while raising money for such a worthwhile cause," said Tyler Ross, Chief Marketing Officer. "Knowing that our donations will make a difference in the American Cancer Society's efforts to end cancer made this a very rewarding activity."
The relay was held in Southfield's City Centre in conjunction with their Eat to the Beat festivities. It also included a Survivor Walk and onsite fundraising activities. Vibe Credit Union's relay team is already working on ideas for their participation in next year's event.
Go to main navigation