New Service Aims to Help Michigan Beneficiaries Find Lost Life Insurance Money
Michigan consumers can now use a new tool from the Michigan Department of Insurance and Financial Services (DIFS) to help beneficiaries locate a deceased family member's life insurance policy or annuity contract that was purchased in Michigan. The Life Insurance Annuity Search Service (LIAS) will help executors, legal representatives, or members of the deceased person's family find a life insurance policy or annuity contract left by a deceased loved one.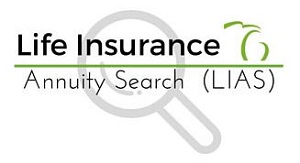 "Life insurance is often bought and paid for many years before the policy will be used and sometimes beneficiaries are not certain whether a parent, sibling, or loved one who passed away had a policy," said DIFS Director Patrick McPharlin. "But with this new free service, consumers can request help from DIFS to simplify the process of locating lost life insurance policies."
On a monthly basis, DIFS will forward consumer requests to Michigan licensed life insurance and annuity companies. The insurance companies will search their records to determine whether they have any life insurance or annuity policies in the name of the deceased.
The insurance companies will then respond directly to the legally authorized requestor only if they have any life insurance policies or annuity contracts naming the deceased. Contact will not be made to anyone who is not a beneficiary or legally authorized to receive information regarding the policy.
"Our department frequently receives requests from consumers looking for help locating life insurance or annuity policies," added McPharlin. "We are pleased that we can provide this service. It will eliminate multiple searches by consumers, because the department can act as a clearinghouse for those requests."
To learn more about LIAS or for more information about DIFS or the services provided, please visit the website at www.michigan.gov/difs, follow them on Twitter or "Like" them on Facebook.
Go to main navigation