Networking and Insights Abound at League Events This Week
Outstanding agendas, opportunities to network and beautiful Michigan destinations are drawing huge attendance at two highly popular League events taking place this week.
CEOs and c-suite staff are destined for the Executive Summit, Sept. 14-16 at the stunning Inn at Bay Harbor, where issues like mobile wallets and internal controls to prevent embezzlement are slated. Situated on the shore of Lake Michigan's Little Traverse Bay, the inn offers broad vistas as a backdrop for some of the world's most spectacular sunsets.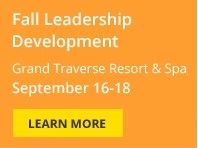 CEOs, directors and committee members will then head to the Traverse City area for the Fall Leadership Development Conference, Sept. 16-18 at the Grand Traverse Resort and Spa. Author David L. Peterson will deliver the keynote "Anchor Management: Capitalizing on Strategic Leadership and Decision-Making Traits to Stay Grounded" and attendees will find timely breakout sessions on internal fraud and cybersecurity.
The Fall Leadership Development Conference also provides an opportunity for necessary Bank Secrecy Act training for board members and features a Saturday afternoon excursion to area wineries for tours and tastings.
Those interested in attending either event may call the League at (800) 262-MCUL, ext. 225 to register.
Go to main navigation