Get 'em Fast! Additional Rooms Available for Fall Leadership Development Conference
Due to the popularity and outstanding agenda of the MCUL & Affiliates Fall Leadership Development Conference, a hotel wait list is being maintained by the Grand Traverse Resort and Spa. The event is being held Sept. 16-18, near Traverse City.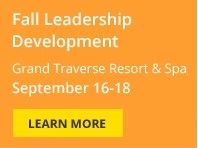 Author David L. Peterson will deliver the keynote on "Anchor Management: Capitalizing on Strategic Leadership and Decision-Making Traits to Stay Grounded," as well as a breakout session on "Get In or Get Out! Strategically Plan to Bank Tomorrow's Members".
In addition to timely training and vital compliance topics, the event boasts quality networking experiences for board members, CEOs and future volunteers. New this year, guest attendees will find a guest lounge available on Saturday with hosted events, activities and gifts.
Those on the hotel's wait list are encouraged to secure accommodations elsewhere and some may begin hearing as soon as this week about openings at the Grand Traverse Resort, which may create room availability elsewhere. Meanwhile, additional rooms have been secured at the nearby Holiday Inn Express and are being held until Sept. 1. Anyone having difficulty finding room openings last week may want to try to contact the Holiday Inn Express at (231) 938-2600.
Go to main navigation