Volunteers Encouraged to Bring Guests to Leadership Development Conference
When credit union directors, committee members and CEOs converge on the Traverse City area for the 2016 Fall Leadership Development Conference, they are welcome to bring guests along to enjoy some fun. The event takes place September 16-18 at the Grand Traverse Resort and Spa.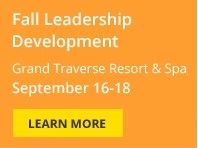 In addition to enjoying the resort amenities, downtown shopping and nearby Turtle Creek Casino, there is plenty more to enjoy at the conference for attendees and guests. This year a complimentary "Guest Lounge" will be available throughout Saturday, providing a great place to meet-up with friends and enjoy refreshments. Two hosted events will take place during the day, providing surprise giveaways and an opportunity to mingle with others.
In addition, guests are welcome to participate in a prize drawing by bringing an item to donate to the Cherryland Humane Society. Those attendees who prefer to travel with their canines may book accommodations at the Dog Dreams Inn, located on the property of the resort.
Tickets are also still available for an afternoon winery tour and tasting, as well as for the Saturday night dinner and dancing and other meals.
The Fall Leadership Development Conference features important compliance training and leadership insights for credit union volunteers, including Bank Secrecy Act training and Internal Fraud and Cybersecurity sessions.
Go to main navigation