Fall Conference Keynote to Present Two Breakout Topics
David L. Peterson, author of "Grounded: Anchor Management for Strategic Leadership and Effective Decision-Making," will deliver the keynote address at the MCUL & Affiliates 2016 Fall Leadership Development Conference, Sept. 16-18 at the Grand Traverse Resort and Spa.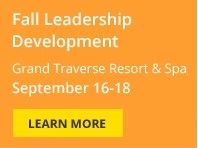 Peterson is also a well-recognized eBanking pioneer and is frequently published on a wide range of electronic banking, virtual branch, payments and strategic thinking topics. Following his keynote, he will also present "Get In or Get Out! Strategically Plan to Bank Tomorrow's Members." The topic will address the aggressive shift of focus on a new breed of members, whose expectations are driven by Apple, Google, Amazon and PayPal. He will also present a session on "Branch Transformation: Gateway to Member Engagement," which will discuss the way to change how members feel about their financial institution, particularly when they visit a physical office.
The Fall Leadership Development Conference provides critical training for directors, committee members, future volunteers and executive management. Registration is $399 per person for the first four attendees and $350 per person for the fifth or additional participant.
Go to main navigation