A Great Lineup of Speakers at AC&E Will Provide Plenty to Talk About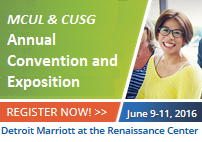 Generating ideas, staying ahead of the curve and sharing knowledge with peers and industry leaders are key reasons why Michigan credit union professionals gather each year for the MCUL/CUSG Annual Convention and Exposition.

Our June 9-11 event is fast approaching. Attendees can expect to find a wealth of useful information, contacts, products, services and insights at the Detroit Marriott at the Renaissance Center. Pre-event networking starts on Wednesday, June 8 with an optional golf outing in support of CMN Hospitals at the TPC golf course in Dearborn during the day, and the complimentary "Corks for a Cause" fundraiser in support of the Michigan Credit Union Foundation that evening.

Moving forward, the event will be a whirlwind, packed with activities such as the Thursday, June 9 panel discussion at 8:00 a.m. on "Safeguards: Tools for Preventing, Identifying and Dealing with Fraud" that will share the latest best practices to deter and detect embezzlement. By 9:15 a.m. everyone will be gathered "Center Stage!" to hear the inspiring keynote address by Alex Sheen, founder of "Because I Said I Would," a social movement and non-profit dedicated to the betterment of humanity.

The Economic Issues Luncheon that same day will feature Michigan State University Economics Professor Dr. Charles Ballard discussing the challenges Michigan faces in the wake of the financial crisis, and how policies can brighten the state and nation's economic future.

Longtime credit union leader Jim Kasch will also help clue credit union professionals in on how to better deepen their existing relationships with young members—and how to attract the next generation of members to credit unions—during a session on Friday, June 10 titled "Attract, Serve and Retain Millennials." The session is a precursor to one-day workshops that Kasch will facilitate in Lansing and Ann Arbor in July.

Another notable speaker who will promote conversations amongst peers will be Kurt David, a former professional athlete, author and television host who will speak about leadership and teamwork during the CUES Networking Luncheon on June 11.

Those seeking hotel accommodations may email Janet Ormsby for assistance.

Go to main navigation